When Matt Nagy was a senior quarterback at Manheim Central High School in Lancaster, Pennsylvania, he believed he was good enough to play Division I football. The son of a football coach, Nagy knew the keys to success, and every Friday he'd put up impressive statistics on the field. Still, the scholarship offers from major programs like Penn State and Syracuse never arrived in the mail. Instead Nagy ended up attending the University of Delaware, a Division I-AA program.
Nagy was again overlooked when his playing career with the Blue Hens was finished. Despite being an All-American and setting dozens of school records at Delaware, no NFL team felt he was worthy of a roster spot. He went undrafted in 2001 and was never offered a contract in a tryout. So, Nagy went to the Arena League, where he played six successful seasons, throwing for 374 career touchdowns while twice leading teams to the Arena Bowl.
The failures and disappointments Nagy experienced as a player have often led to his success down the road. Now comes a new challenge to overcome – improving the play of a young quarterback and struggling offense. After five seasons working on the Kansas City Chiefs' offensive staff, Nagy has been named the new head coach of the Chicago Bears. He will be the team's offensive play-caller and work hand-in-hand with quarterback Mitchell Trubisky. This past regular season, the Chiefs under Nagy's watch ranked fifth in yards per game (375.4); the Chicago offense he takes over ranked 30th (287.4).
After years of using his playing career as motivation to work harder and prove people wrong, Nagy is now using his own time under center as a learning tool to improve Trubisky's chances of success as a signal caller.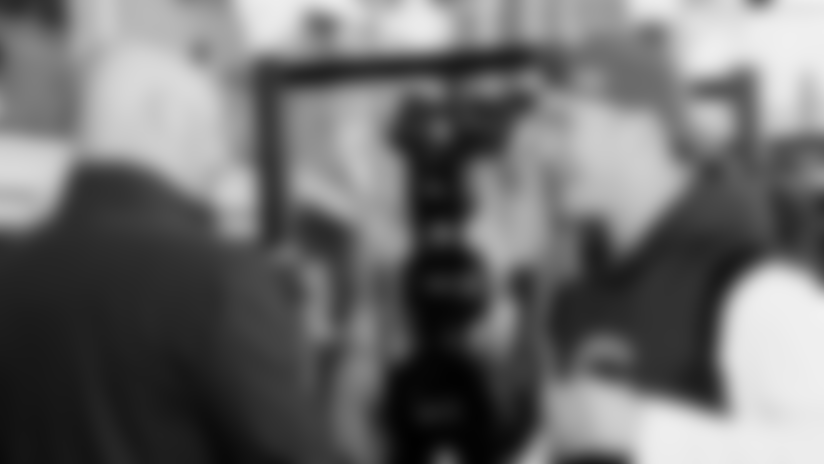 Bears head coach Matt Nagy greets quarterback Mitchell Trubisky in the Halas Hall weight room.


"Beginning in high school, football was my sport; I wanted to be that D-I player," Nagy said Tuesday at Halas Hall, where he was introduced to the media just a day after he was named the 16th head coach in Bears franchise history. "When you play the game, and you play as many games as I had the luxury of playing, you experience failures and success. And there's more failures than success. So it helps you grow as a person, helps you grow as a coach. And you have to use those to your benefit."
Working in the coach's favor is that Nagy is already familiar with Trubisky as a person. Though he didn't see much of the quarterback's rookie season because of his obligations with the Chiefs, Nagy did extensive scouting of the North Carolina product last spring leading up to the draft.
Like Chicago, Kansas City was in the market for a young quarterback in 2017. Nagy and the other Chiefs coaches met with Trubisky at the NFL Scouting Combine in Indianapolis in February, where players and teams are given just 15 minutes to talk. The pair had a brief conversation there, but the coach felt that Trubisky treated it too much like a job interview, and didn't let his true character show through. So the team invited Trubisky to their facility in Kansas City in early April, where the quarterback and coach were able to spend a good amount of time with one another and really get a feel for the other's personality.
"I had an opinion of Mitch where he was kind of introverted and I felt scripted, which 95 percent of the guys are in that atmosphere," Nagy said of his first meeting with the future Bear. "But we went ahead and took several quarterbacks that we were interested in and brought them in and basically had them for six or seven hours and let their personalities show, let them be who they are just in front of us.
"After six hours of being with Mitch, it was unbelievable. He did a wonderful job, thought he was a helluva person, thought he knew football inside and out. It was fun talking ball with him."
The Bears eventually traded up to select Trubisky with the second pick of the 2017 Draft; Kansas City made a deal of their own to select a quarterback, going up to No. 10 to draft Texas Tech's Patrick Mahomes.
The familiarly they gained through the draft process will hopefully help Nagy and Trubisky's relationship now as coach and player. Having played and coached the position for many years, Nagy knows exactly what quarterbacks go through, not only on the field but also in meetings and everything else that comes with being the face of an organization. He believes that a strong bond between the person calling the offensive plays and the person running them is as important as anything else for a coach and quarterback.
"Trust is number one," said Nagy when asked about the characteristics needed for a successful coach-QB pairing. "(The quarterback) has to trust the quarterback coach. And the quarterback coach has to trust him. That goes for the system and the philosophy.
"Honesty. You have to be able to be honest. The quarterback needs to know when he's doing something wrong or how he can get better. The coach needs to understand when he's not teaching something the right way or he sees something wrong, he's got to be able to admit to his mistakes.
"The other part would be – and sometimes this gets neglected – is over-communication. That's all part of the honesty and trust, which you've got to communicate. And when you fail to communicate, there's gray areas. And when there's gray areas, then bad things happen."
On Tuesday before he announced the new head coach, Chicago general manager Ryan Pace called quarterback "the most important position on our team." Though he was hired for more than just his expertise at developing and coaching talent at that one spot on the field, Nagy's top task as Bears head coach will be getting the most out of Trubisky. For years, the failures he faced as a quarterback drove him to be better, to work longer hours, to show others where they made a mistake.
Failures as a player helped turn Nagy into a top coach. Now running his own team for the first, he will use his experience to benefit Trubisky and help turn the entire Chicago offense around.