During his introductory press conference Thursday, new Bears coach Marc Trestman expressed gratitude to those who helped him reach the pinnacle of his profession and shared his vision of the future.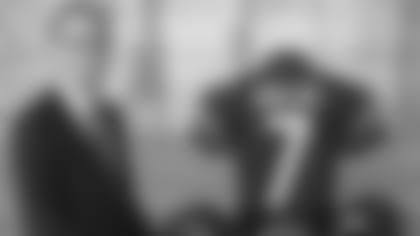 In becoming the 14th head coach in Bears history, Marc Trestman joins a lineage that began  in 1920 with legendary Hall of Famer George Halas.
"I'm filled with an incredible amount and sense of humility today in becoming the head football coach of the NFL's founding franchise," Trestman said at Halas Hall.
"This moment, from my point of view, has very little to do with me and very much to do with the McCaskey family, the Chicago Bears, the city of Chicago and—what I've found in a very short period of time—its passionate and amazing fan base."
Trestman thanked the McCaskeys, Bears president and CEO Ted Phillips and general manager Phil Emery, as well as the coach's wife Cindy, daughters Sarahanne and Chloe, and his parents, who he said instilled in him "the value of hard work and mental toughness."
"You are the ones who got me to this moment," Trestman said.
Hired as the 14th head coach in Bears history on Wednesday, Trestman spent the last five seasons in the same position with the Montreal Alouettes in the Canadian Football League, compiling a 59-31 record and winning back-to-back Grey Cup championships in 2009 and 2010.
Prior to that, Trestman earned a reputation for developing quarterbacks such as Steve Young and Rich Gannon during 17 years as an NFL offensive coordinator and position coach.
Trestman described his new job as "arguably one of the best in all of sports" because "the Chicago Bears are unquestionably the most loved and storied franchise in the NFL."
With that designation comes high expectations, as Trestman learned while interviewing with Emery, Phillips and Bears chairman George H. McCaskey, grandson of the legendary George Halas.
"It became readily apparent to me from the beginning this was clearly a franchise that has the highest expectations for its team; where winning consistently is a standard," Trestman said to an overflow crowd in the George "Mugs" Halas Auditorium. "When you do win consistently, you play for championships on a yearly basis. I understand that and I confidently embrace it.
"After the interview process I do feel the passion, I do feel the sense of urgency, and man do I feel the commitment to win. I cannot begin to express how excited I am for the challenges that are ahead."
While Trestman will immediately begin to familiarize himself with the Bears roster, he already knows what type of team he wants to put on the field.
"We've got to play smart and we've got to play unselfishly," Trestman said during his hour-long press conference. "We've got to play tough, physical, disciplined football because in this league you've got great coaches and great players in 31 other cities.
"Our coaches have to be great at teaching the science of the game because we've always got to be at our best. Our players have to totally understand special situation football, and finally and most importantly, we have to understand that the quarterback must play at an efficient level.
"We will have a locker room where there are two core values: You've got to really love football and you've got to be hard working. From talking to Phil and others I can say really confidently that I'm walking into that kind of locker room, and I feel grateful to start in that situation."
Described by Emery as quietly intense, Trestman intends to continue to apply that aspect of his personality to his style of coaching as he has done throughout his career.
"Our players are going to compete," Trestman said. "They're going to compete on a daily basis on the practice field and there's going to be a sense of peer-to-peer accountability, not just within each side of the ball but connected to each and every phase of our football [team].
"Our overall philosophy will be very simple: We want to create a locker room based on a humble, hard-working disciplined environment; an even-keeled yet passionate common sense no-nonsense approach to our business. We're going to have fun. We're going to enjoy the game. But we are going to have a sense of urgency on a daily basis that when we play on Sunday will give us the edge we need."
As head coach, Trestman is committed to being a great teacher.
"I want to help everyone in the locker room truly master their craft, and I'm asking nothing in return but their best efforts," Trestman said.
"I get to be the team's compass and road map—or in modern terms I get to be the GPS system of the team. Every day our team will know where we are, where we're going and how we're going to get there."