Marc Trestman knows a good thing when he sees it.
That's why the new Bears coach doesn't plan to make any major alterations to the team's defensive scheme. New coordinator Mel Tucker inherits a unit that scored nine touchdowns, allowed the third fewest points per game in the NFL and helped the Bears lead the league with 44 takeaways in 2012.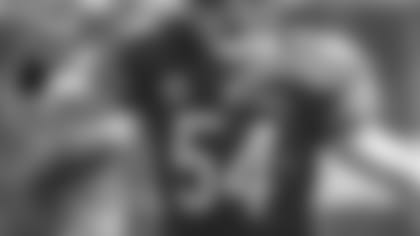 Brian Urlacher has been voted to eight Pro Bowls in 13 seasons with the Bears.
"We're going to be very similar to what we have been here," Trestman said Thursday at Halas Hall. "We're not going to change the style of defense that we're playing.
"We're going to call things generally the same way. We're going to put some spin on it that Mel can bring with him from where he's been in the past, but essentially the style of play and the type of football that we're going to play defensively will not change much."
As defensive coordinator of the Jacksonville Jaguars the last four seasons, Tucker operated a similar 4-3 system. On Thursday, he said he intends to run "an attacking, up-the-field, penetrating defense."
"There's a lot of carryover from what we've done in Jacksonville and what I've done other places and what they've done here," Tucker said. "I just didn't think it would be very productive to scrap [the defense]. What I want to do is take a look at it, evaluate it and see how we can take it further."
The terminology will remain the same, which should help make for a smooth transition. Plus two position coaches in Jon Hoke (defensive backs) and Mike Phair (defensive line) have been retained from Lovie Smith's staff, which will provide some continuity.
"They're great coaches," Tucker said. "They're great guys first and foremost, and that was important to coach Trestman. They're very good at what they do and they're going to help us."
The biggest question facing the defense this offseason is whether star middle linebacker Brian Urlacher will return to the Bears. The 34-year-old, who is due to become an unrestricted free agent in March, was hampered by knee and hamstring injuries this past season.
On Thursday, Trestman declined to say anything definitive about Urlacher's future with the Bears.
"The organization is going through that process," Trestman said. "I'm excited to come here because Brian Urlacher has been such an important part of this, and I've watched him play. But to talk about where that thing is going would be premature at this time."
Trestman told reporters that he had a 30-40 minute phone conversation with Urlacher, who has spent most of the offseason at his home in Arizona.
"He was great," Trestman said. "We just talked generally about the team and not specifically about his situation. I asked him about the team and our locker room and tried to gather as much information as I could to try to do a better job as we move through the spring."
After their lengthy conversation, Trestman is convinced that Urlacher wants to return to the Bears.
"I don't think there was any question that he loves Chicago and this is a place he'd like to be," Trestman said. "I'll leave it at that. Coming in here as I have, I'm not as attuned to the entire situation, certainly the economics and all the things that go into it. That's going to be a process between Brian and the organization as we move forward."