The title on Aaron Kromer's business card is shorter, but that's a good thing for both him and the Bears.
Remaining the team's offensive coordinator while relinquishing his duties as offensive line coach to Pat Meyer will enable Kromer to spend more time working with multiple positions.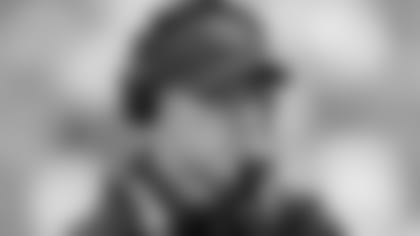 Aaron Kromer
"[The move] is giving Pat Meyer more of an opportunity to have a bigger voice in the offensive line room, and it's also given myself a chance to broaden my horizons and not spend 100 percent of my time with the offensive line when it comes to practice and meeting time," Kromer said.
"So I'll be able to get out a little bit more. At the same time, I want to make sure that I'm on top of what we're doing with the offensive line; really hands on still, but able to spread myself out a little bit."
Kromer is entering his 14th season as an NFL assistant. He served primarily as a position coach with the Raiders (2001-04), Buccaneers (2005-07) and Saints (2008-12) before becoming an offensive coordinator for the first time with the Bears in 2013.
"When you're a coach that's continuing to want to grow, you want to make sure that you're in all aspects of the offense and all aspects of the game," Kromer said. "Sometimes an offensive line coach can get pigeon-holed into just doing that job. I've made it a point throughout the years to make sure I didn't. Although the title changed, I was already working in some of that capacity. This is more of a promotion for Pat than anything."
Coach Marc Trestman sees the move as a chance for Kromer to gain more expertise.
"Having a guy like Pat with us has enabled Aaron to spread his wings in terms of just being able to get around and grow as a coach, and get out of the box of being a line coach and what all that entails," Trestman said.
"We're excited about that, and I'm excited having him with us. It gives him a chance to grow, and it gives me a chance to move around a little more as well. It's all a ripple effect throughout the team."
One day after becoming Bears head coach in January 2013, Trestman hired Kromer as his first
assistant. The two worked together with the Raiders from 2001-03, helping Oakland reach the Super Bowl in 2002. More recently, Kromer helped coach a dynamic Saints offense that led New Orleans to a Super Bowl championship in 2009.
"Aaron's very experienced," Trestman said. "He's got a championship pedigree. Certainly he's got a pedigree in one of the best offenses that the league has ever seen over a period of time."
Last season in Chicago, Kromer presided over an offense that helped the Bears rank second in the NFL with 445 points and set franchise records with 6,109 total yards, 4,450 passing yards, 32 passing touchdowns, a 96.9 passer rating and 344 first downs.
"He did an outstanding job last year of growing our offensive line and being very involved with play selection as well during the course of the game in handling adjustments," Trestman said.
Trestman indicated that the plan all along was to make this move with Kromer in Year 2.
"I wouldn't have wanted him to leave New Orleans without, in my mind, being able to tell him and [Saints coach] Sean [Payton] for that matter that he would have the opportunity to grow as a football coach," Trestman said.