Long after some of even the most ardent NFL fans had stopped watching the 2011 draft, Cheta Ozougwu was still nervously monitoring the TV coverage and his cell phone.
After spending the first two days of the draft studying for a final exam, the Bears defensive end from Rice had thought he was going to be selected much earlier on the third and final day.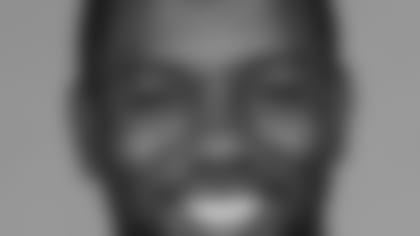 Cheta Ozougwu is presented the "Lowsman Trophy" during "Irrelevant Week" in Newport Beach.
"My agent was saying anywhere in the fifth or sixth round, so that's what I was expecting," Ozougwu said. "When my name still hadn't been called in the seventh round, I started praying with my sister. I was at home with my family in Houston and it was a long wait."
Ozougwu was frustrated because a handful of teams had called to tell him they were going to draft him, only to go in a different direction at the last minute.
"Four or five different teams did that," Ozougwu said. "I don't know why they did that, but it was stressful. I would get a phone call and they would be like, 'Hey, we've got this many picks left and we're going to get you,' but they wouldn't pull the trigger.
"They played with my emotions a lot. But I just knew that it was going to work out. I knew that God was going to take care of it. Wherever he wants you to be, that's where you'll be."
If Ozougwu didn't possess so much faith, he probably would have scoffed when his sister told him she was getting a strong feeling he was going to be chosen by the Texans. Sure enough, their hometown team selected him with the 254th and final pick in the draft.
"She was just praying about it and said her spirit was saying that the Texans might pick me up," Ozougwu said. "From there, they gave me a call and I was like, 'Wow.'"
As the last pick in the draft, Ozougwu earned the title of "Mr. Irrelevant" and was whisked away to Newport Beach, Calif., where he spent a week being treated like a king.
The annual "Irrelevant Week" honoring the final pick in the draft began in 1976 and includes a golf tournament, a regatta, a roast and a ceremony awarding the player the "Lowsman Trophy" (as opposed to the Heisman).
"I was just happy I got picked up and when they told me I got to go to Newport Beach for free, I was like, 'Wow, I'm going for it,'" Ozougwu said. "It was great. I got six or seven boxes of gifts. I got golf clubs and golf balls, and the commissioner gave me a watch."
While thrilled to be selected by his hometown team, Ozougwu was cut by the Texans before the 2011 regular season. He signed with the Bears in May 2012 and led the team with three sacks in the preseason. Ozougwu then appeared in two regular-season games against the Vikings and Packers, registering three tackles.