The positive first impression that Bears general manager Ryan Pace made on Matt Nagy during the latter's head-coaching interview remains unchanged two months later.
"Unbelievable communication, zero ego," Nagy said last Wednesday at the NFL Combine. "When you get into the interview process, you say that and you want to believe it. But now that I've been almost two months into this thing, it's real."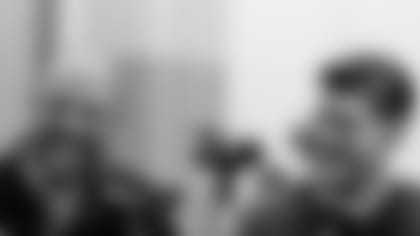 Bears head coach Matt Nagy and general manager Ryan Pace have a laugh during an interview at the NFL Combine.


Pace and Nagy have returned to Halas Hall after spending the last week together at the Combine, evaluating about 330 of the nation's top draft prospects.
"He makes it easy for me because there might be some things that we disagree slightly on here or there, which is normal, but at the same time we both respect each other and honestly there haven't been too many disagreements," Nagy said.
"It's been more togetherness, and his communication is really second to none. I appreciate that, and it's reciprocated from me to him. When you have that, you get that partnership and that relationship, which is what we looked for in that interview."
Pace has enjoyed working with Nagy as well.
"He's extremely passionate about this," Pace said. "The collaboration is very natural for us. He's highly intelligent, but he's also very humble with that, which I think is a real attractive trait. Matt's naturally a very energetic person. He's also very creative, outside-the-box thought process, which is nice."
With Nagy taking over as head coach, Bears scouts will begin looking for players that fit his offensive system. With that being said, Nagy excelled during his tenure as Chiefs offensive coordinator at molding the scheme to accentuate his players' strengths.
"As we learn more and more about just his philosophy, especially on offense and what he wants to do, it's getting our scouts on the same page on that vision and what fits," Pace said. "But one of the attractive things about Matt is his flexibility, so it's really, 'Hey, this is what this player does best, let's put him in position to maximize that.'"
The offense the Bears run under Nagy will look a lot like the one in Kansas City that produced the NFL's leading passer in Alex Smith (with a 104.7 rating) and top rusher in Kareem Hunt (with 1,327 yards) last season.
"We're going to continue to do some of the things that we did in Kansas City, but we're also going to grow," Nagy said. "We're going to create our own identity. It's going to be Chicago Bears football, and that's it.
"I've been fortunate enough to have a great staff throughout—offense, defense and special teams. Offensively, we're getting in there and these guys on staff are coming from the ground up. They don't know anything. So we've got to start back like they're rookies again, and they are. So we'll create our own identity and they're going to have their ideas. I'm going to be open to all that. That's what you really look forward to when you get into Phase 1 [of the offseason program]."
The only assistant that Nagy brought with him from the Chiefs is veteran coach Brad Childress, who was hired by the Bears as a senior offensive consultant.
"As we get into this ramp-up phase of this offense, Matt doesn't have really a lot of guys from Kansas City," Pace said. "Matt did a good job of bringing guys in really from different areas and really all around the league and college football.
"So with Brad it's, 'Hey, here's a guy who has some background in this offense.' So when Matt's pulled out of those meetings with other head-coaching obligations, they can keep rolling with Childress in there."