In the first of a five-part series featuring Bears offensive assistants, quarterbacks coach Dave Ragone shares his thoughts on the players he works with.
On what has impressed Ragone about working with the quarterbacks:
"More than anything else just in terms of all of them, they've come in with a great professional attitude, from the veteran of Mark Sanchez of 10 years all the way down to Mitchell [Trubisky]. It's one of those things I think has carried over from the spring. The first four or five days of practice what these guys have shown is every day they're in the meetings early, they stay late when they have to and they get on the practice field locked in. They're competing against themselves and each other, and right now that's how we're measuring them."<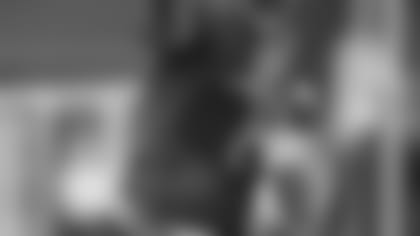 Bears quarterback Mike Glennon throws a pass in a recent practice.


On starting quarterback Mike Glennon:
"He's a professional. It means a lot to him, just like it does for the other three quarterbacks in the room. He's the one who's the catalyst and those guys follow with him and they're pushing him. He wants to compete. He wants to be pushed in the meeting rooms and on the field, and hopefully every day we come out there with that mindset and try to do that."
On how Glennon has taken ownership of his opportunity with the Bears:
"I think you see it in the open practices. What he has done, what he tries to do is just like the other quarterbacks. When he's in the huddle, he's trying to have command and be concise. When he gets to the line of scrimmage, he's trying to make sure he has done a good job with his pre-snap mechanics in terms of communication. And the more he feels comfortable doing that, the leadership role for him as the starting quarterback starts to elevate. For the guys around him, that's a big deal."
On how valuable it is to have an experienced backup like Mark Sanchez:
"Mark's been through a decade of football and seen a lot of different things, good and bad. He's been part of winning cultures, and he's been part of very good quarterback rooms. I think when you talk to each one of those quarterbacks, just because he's been where Mitchell's been, he's been where Mike's been, he's been in rooms with different quarterback coaches, he's got a lot of experience to lean on. He does a great job of knowing when to poke in and poke out of those conversations and more than anything else he's a valuable asset just because of his overall experience in everything he's done."
On examples of when Sanchez has provided input:
"It's as simple an example as just watching film and there's a play or a coverage that he sees that he has seen in the past. And there might be something that he's like, 'Hey, be aware of this,' or 'see this.' They are more friendly reminders than overall coaching points. But he's a professional. That's what the whole room brings more than anything else, and we appreciate it as a staff."
On what has impressed Ragone about Trubisky:
"What he's come in with is the right attitude. I knew about his background just because of where he grew up, not too far away from myself, and I knew a lot of people who knew him. He's come in with the mindset of 'Every day I'm trying to improve and get better.' In the meetings he's asking the right questions. On the practice field he's trying to stay locked in—especially when he's not in, which is tough when you come in from being a starter in college and now you have to wait again. But he's done a great job of trying to take the mental reps and that's what we ask of all the guys who aren't in."
On what Ragone has learned about Trubisky so far in training camp:
"It's been a continuation of what spring was and spring was getting him as comfortable as possible in the huddle, at the line of scrimmage each day. Each play is a way to compete against himself and what I said first, these quarterbacks in general come out and compete in the classroom and on the field. It's all I can ask for, it's all coach [Dowell] Loggains can ask for, and each day they're pushing each other to bring positive energy to get better, and obviously that's going to help the football team."