Reflecting on Devin Hester's career one day after he announced his retirement, Bears special-teams coordinator Jeff Rodgers called the star return specialist "the best that's ever done it."
"Elite skill set," Rodgers said. "I never had a chance to coach him. I was across the sideline several times and you're holding your breath. There's been nobody like him in my generation."
Hester was selected by the Bears in the second round of the 2006 draft out of Miami. In eight seasons in Chicago, he became the NFL's all-time leader with 18 kick return touchdowns and 13 punt return TDs, was voted to three Pro Bowls, won 13 special teams player of the week awards and was named to the NFL's All-Decade team for the 2000s by the Associated Press and ESPN.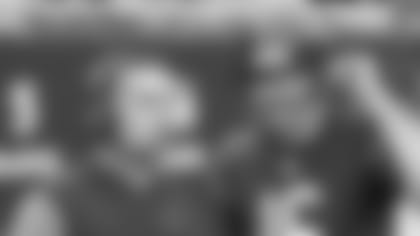 Bears special teams coach Jeff Rodgers talks with punter Pat O'Donnell.


"He was really the first guy that you really game-planned for and you saw different people take different approaches," Rodgers said. "You see people try to punt the ball out of bounds. Well, defenses can combat that with some of the rush scheme, so you may have to change that.
"Saw people try to kick fair-catch balls and short because the reality is if you played Chicago when he was rolling and you came out of the game with a 35 or 36 net, which isn't great, but against him you're usually taking that every time. He's as good as it gets."
Rodgers faced Hester twice, first as Panthers special-teams coordinator Oct. 10, 2010 in Carolina. In that game, Hester returned a punt 50 yards.
"We were going to try and change it up," Rodgers. "We tried to punt the ball out of bounds and our punter put the ball about four inches from the sideline. He reached in and got it and shot straight up the sideline."
Rodgers employed a different strategy a year later as Broncos special-teams coordinator under John Fox. On Dec. 12, 2011 in Denver, Hester returned a punt 26 yards.
"We tried to hang it up there; did a good job on the first couple," Rodgers said. "Actually the best ball our punter hit that day with hang time and distance, [Hester] kind of circled around, went backwards, sideline, all of a sudden he turned the corner and you're holding your breath. We were able to get him on the ground, but he's a game-changer."
Rodgers feels that Hester possessed a unique return style, especially in terms of "his ability to set up blocks in the open field while still being able to move and change the angles of people."
"What I noticed watching him return, it always seemed like he was never looking at the guy that was in front of him," Rodgers said. "He was one block ahead. He knew how he was going to make this guy miss; he was trying to make the next guy miss and set up his blocks.
"He had kind of a hesitation-speed deal where it always seemed like he was moving about 80 percent, but when he put it into that final gear, he had a real ability to squeeze through some spaces that didn't look like he could."