Even if Mark Sanchez doesn't take a single snap this season, he'll likely still play a valuable role as a mentor to fellow quarterbacks Mike Glennon and Mitch Trubisky.
Sanchez served in that capacity last season with the Cowboys behind breakout star Dak Prescott, a fourth-round draft pick who was named NFL Offensive Rookie of the Year.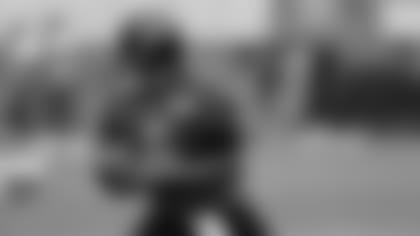 Bears quarterback Mark Sanchez turns to hand off during practice in Bourbonnais.


It's a role that took some getting used to for Sanchez, who started immediately upon entering the NFL as the fifth pick in the 2009 draft and led the Jets to back-to-back AFC championship games in his first two seasons.
"It has been a different role," Sanchez said. "Adjusting your perspective is not always easy. But that's the mental side of this game and that's how much I love playing, that no matter what, I want to be out here. I want to be in a uniform. I want to be competing my butt off in practice and then pushing the starter as much as I can."
The Bears signed Sanchez in March because they viewed him as an ideal backup quarterback, one who has experienced success and adversity in a big city market.
"It's a young team and the emphasis is on veterans to help guys and help push guys," Sanchez said. "Even if that means from a No. 2 role, to help push Mike with everything I see.
"Just like I had the conversation with Dak last year. I said, 'Hey dude, I'll tell you everything I know. I'll push you as hard as I can. But I've got to say it: If, at any point you want me to turn it off, I can do that, and I'll shut up and I won't say a word. But if I'm going to tell you, I'm going to tell you, if it's body language, footwork, whatever.'
"It's the same relationship I have with Mike. I'm pushing him hard, helping him compete."
Sanchez has been impressed with Glennon, a fifth-year pro who started 18 games in his first two seasons with the Buccaneers in 2013-14 but attempted only 11 passes the past two years.
"It's been exciting working with him," Sanchez said. "He can really play, and I don't think people have had a fair look at him over his career. I think he's a special player. He's decisive. He's got great feet, especially for a big guy, and he can make all the throws. I'm excited to see how well he does."
Sanchez has also enjoyed working with Trubisky, the second overall pick in the draft who has approached his job with the demeanor of an undrafted free agent.
"He's great," Sanchez said. "The best compliment you can give a rookie is not having to tell him to shut up, right? Just keep your head down and work and that's really been his mentality, and that's huge. That's not easy, especially coming from where he's come from and the status you build as a college player, and then the team trades up and drafts you."
With Trubisky lurking behind Glennon, some outside the organization believe a quarterback controversy will develop. But Sanchez disagrees, given that the Bears have stated repeatedly that Glennon will start this season and Trubisky will be groomed behind him.
"There's no chance [a quarterback controversy] happens here," Sanchez said. "It's been defined clearly, and that's what you need. You need it from the top and it's already been addressed.
"I totally understand; certain papers sell and some don't, quotes and headlines and certain things. I've been around a little bit, so I know. But we're not going to have an issue because Mike's going to play his butt off. If anything happens, I'll be ready. If anything happens, Mitch is going to be ready. Connor [Shaw] is going to push us all. And we have a great room. I like where we're at and I like where we're headed."