With the Bears conducting their rookie minicamp this weekend at Halas Hall, we spoke with some of the team's 2017 draft picks about their experience last year. Here's what they had to say:
What stood out about participating in rookie minicamp?
Quarterback Mitchell Trubisky:
"It's a lot of fun. It's kind of overwhelming at first because you don't know what to expect. It's just a full day of grinding, getting in with the coaches, learning the playbook, trying to pick it up as fast as possible, and then just going out on the field and trying to be a leader. You expect a lot from yourself when you first get out there, but the coaches are really just looking for you to get better each day. That's really the goal of rookie minicamp."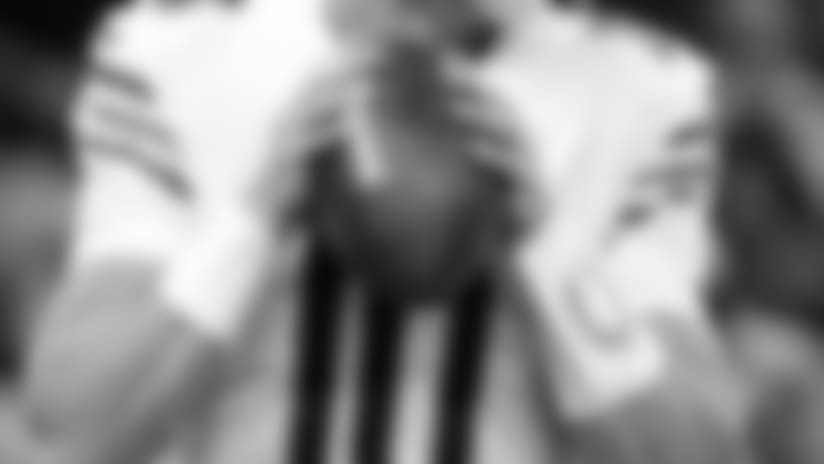 Mitchell Trubisky drops back to pass during a 2017 game.


Tight end Adam Shaheen:
"There was so much thrown at you. You're trying to go through everything and figure out everything and dissect the playbook night-in and night-out because you've got to practice it the next day."
Offensive lineman Jordan Morgan:
"Definitely a lot of nerves. You're brought to a whole new environment. Obviously, they want you here, but you still have those nerves and jitters because everything is new. Most of the players you've never seen before or heard of, and you've got a new offense or defense you're trying to learn. There's some pressure in that, too."
How difficult was having to practice shortly after receiving your playbook?
Shaheen:
"That was tough, especially coming from a small school. It was completely different. It was more than just a few days of my head spinning. I was nervous. Every play was 100 miles per hour with no idea what I was doing."
Morgan:
"You feel a little rushed, but that's just because it's new. Once you get used to the system, you get used to the way things work around here. I was fortunate enough to have had the coaching staff at the Senior Bowl, so I was familiar with who they were. But when I first came here I didn't know any of the rookies other than the draft picks. You just want to get to know as many people as you can and find that sense of familiarity."
Cohen:
"I feel like I'm a fast learner once we get on the field. Looking at the playbook was like reading a different language. But getting out there and learning it, I feel like I adapted fast."
What was it like putting on an NFL helmet and jersey for the first time?
Trubisky:
"It all starts with walking into the building and going down to the rookie locker room. Putting that helmet with the 'C' on it was pretty surreal. You're like, 'Here we go. It's really about to start. It's for real.' Then you go out on the field and it's still football—the game you love—but it's just crazy getting that first NFL moment and putting that new jersey on."
Morgan:
"It was a very surreal feeling. All these people chase a dream to play professional sports and once you're finally in that gear and you're doing things with that team. it's like 'Wow, this is really happening." But at the same time, you can't let it lock you up too much because now you've got to go out and play."
Cohen:
"I just kept looking at the 'C' on my helmet and putting my last name with it. It was just a surreal moment. I knew that's when I would feel like I was really in the NFL. When I first got drafted, I wasn't in Chicago, so it didn't really hit me. But when I came here and put the [uniform] on, it hit me."
What advice would you give to this year's rookies about this weekend's minicamp?
Shaheen:
"Just take it one day at a time. Don't overhype it. At the end of the day, it's football. Just play your game."
Cohen:
"[Keep doing] the same thing that you've been doing all your life. The game hasn't changed at all. It's still football and what's been making you go is the same thing that's going to make you go when you get in the league."
Morgan:
"Stay as relaxed as possible and make every second count. Everybody comes here under different circumstances, whether it be draft pick, undrafted free agent or just a minicamp invite. But that doesn't mean you can't shine, so just play as hard as you can and make the most of it. Obviously, you want to play to the best of your ability, but my biggest thing was just to give them consistent play; don't have a few good plays and then the rest of the practice is terrible. Try to be as consistent as possible."