Jon Hoke knew pretty early on that he was meant to be a football coach, not a player. After playing in 11 games for the Bears in 1980, he moved in to coaching, starting in the lower college ranks before eventually elevating to become the defensive coordinator at the University of Florida. In 2002, he joined the Houston Texans' staff as defensive backs coach, and has been in the NFL ever since.
Hoke, who has been Chicago's defensive backs coach since 2009, recently chatted with ChicagoBears.com about his playing career, the importance of having depth in the secondary, and his younger brother, who is a coach as well.
You played defensive back for the Bears in 1980. What are your memories from that experience?
It was a really big deal. Obviously, the Bears are one of the original NFL teams, with tons of tradition. So it was pretty special.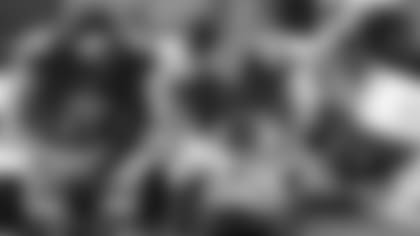 Jon Hoke goes over plays on the sideline with the Bears' defensive backs unit.
In one of the games, you faced Hall of Fame running back Earl Campbell. What was that like?
I didn't play very well, I remember that. They faked a field goal; I was on the field goal block team when they faked a field goal. You remember all those types of things.
Does having playing experience help you as a coach? Maybe a little bit, but you know, I didn't really play long enough. I got in to coaching so quickly. But there are certain situations where it does come in beneficial to me. Like I said, it wasn't that long of a career to speak of, so it helps some, but I'm not sure how much.
What has impressed you about rookie cornerback Kyle Fuller?
He's obviously a very good athlete and he's a guy that studies the position. He works at it and he's made strides. He works to improve and has improved every day. We are not there yet, but he does work to improve every day.
On the other side, how does 5-foot-8 Tim Jennings handle dealing with wide receivers who are much taller than he is?
He's probably had to do it his whole career. I mean he's really kind of small for a corner or football player, being his size. But his whole career he's kind of really been able to adapt to it. I'm amazed at how well he does adapt to it, because it really doesn't seem to bother him.
One of the biggest topics of discussion during training camp and the preseason was the decision to rotate different players into positions in the secondary? How has that paid dividends for the Bears so far this season?
We always talk in terms of player development, trying to get everybody as ready as they can. Get them as many snaps as they can, as many reps as they can. And obviously, we've had some injury issues, so it has paid off. We did a good job early in training camp of giving everybody a lot of reps, as many reps as we could. And it's put them in a better position right now than it would have if they didn't get those reps.
Do you see the secondary building depth as the season progresses?
You could say that. You don't like to do it during the season, but it's a situation we were forced in to and hopefully we're able to do that.
What are the differences, from a coaching perspective, of instructing a player to play man-to-man defense opposed to zone?
There are a lot of differences. You focus a lot more on the quarterback in zone coverage, where in man you really just focus on your man. You'll get early keys or something from the quarterback, but you'll go back to your man. In zone, it's feeling out the receivers, but focus is strictly on the quarterback.
Are you dictating the coverage based on what the offense is doing, or is there a set plan of how you will defend a team?
You kind of have to play the game based on the offense. Some teams, you need to play a little more zone. Other teams, a little more man. You have a base philosophy going in, and then you just build it from there.
Have the NFL's recent rules changes for tackling and illegal contact adjusted the way you coach?
Well, you never want to hurt anybody in the game of football. But we just have to be very conscious of not leading with the head. The target area we like to talk about is from the shoulders down. Just making sure they are very aware of it.
Illegal contact has been around for a while. I know they are supposed to be emphasizing it more and all that, which is fine. But we have to make sure our guys are aware of it. Make sure the players aren't too deep or that they are moving their body in an area where they aren't allowed to move their hands. Just constantly, day-to-day reminders of teaching.
Your brother, Brady Hoke, is the head coach at the University of Michigan. What is your relationship like with him, and what do you two talk about when the topic turns to football?
We definitely talk football. It's some X's-and-O's, it's more, especially during the season, 'How's it going? How are you doing? Where do you see your team at? How's practice going?' It's more along those lines. In the offseason, we talk more scheme than anything, and things like leadership. But during season, it's kind of just checking in to see how the other's doing.
Is it nice to have that family bond, with somebody so close who knows kind of what you are going through?
It's been great. We are only two years different, so we obviously grew up together and ended up in the same profession. So I'm very blessed from that standpoint.
Why is it important that the members of the secondary play together as a unit and not as individuals?
We always talk about it, it's never how one guy plays. It's never about how Ryan Mundy plays, never about how Tim Jennings plays, never about Kyle Fuller, how he plays. It's about how we play as a unit, how we play as one. The better we play as one, the better we'll be as a group.