It was no big deal when it happened, and even less of an issue two days later.
That's basically how both Mike Tice and Jay Cutler feel about a situation that transpired on the sideline during Monday night's win in Dallas. The quarterback got up off the bench after the offensive coordinator had sat down next to him, presumably to discuss a failed third-down play.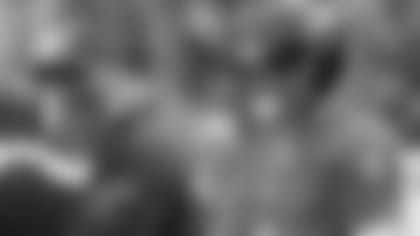 Mike Tice and quarterback Jay Cutler share a laugh during a game last season at Soldier Field.
"Jay and I are good," Tice said Wednesday. "I really admire his play the other night. I really admire how he has prepared himself right now. I really admire how he has bought in.
"It's an emotional game and sometimes I'm sure we all wish we'd handle some things differently. I'm not saying he should have handled it differently.

"But it's an emotional game, and Jay and I are fine. I wish they would have got the clip at the end of the game when he smacked me on the rear end. They didn't show that one. And I smacked him back. But they didn't show that one. They showed the other one, so that's the way it goes."
The situation occurred after running back Michael Bush had been stopped for no gain on third-and-one, forcing the Bears to settle for Robbie Gould's 43-yard field goal with 4:15 left in the first half.
"He probably had enough of me telling him why the play didn't work," Tice said. "I get enough of me sometimes too. I can talk a little bit. The heat of the battle, it's tough. A lot of things happen on the sideline, a lot of things happen in the course of the game.
"I was really angry about the fact that we didn't make that third-and-one. I was in his ear all the way from the time he came off the field to the time he went over and put his helmet down. You know, at a certain point probably enough is enough.
"I wasn't angry at him. I was venting to why the play didn't work. We moved on and he had a great game. I'm very pleased with his performance. He had a couple of really nice checks for us. So he's doing the things that we're asking him to do. He's understanding the things that I'd like to see him to do as far as managing the line of scrimmage, so I'm very pleased with his game."
Cutler discussed the situation on his radio show Tuesday, saying that he had no problem with Tice.
"They take a 10-second clip and blow it out of proportion," Cutler said on ESPN 1000. "Mike and I are good. He's my guy and he has my full support.
"It wasn't anything about Mike. We got in a third-and-one situation. We had talked about getting into third-and-short all week, and we didn't convert. It was a crucial point in the game and we've got to convert. Good call, we've just got to execute it. Mike came over there and said, 'We've got to make that,' and I said, 'I know.'
"I got up and got some water. I watched the defense for 10 seconds, came back and talked to Mike about what we were going to get into the next series, and we're off and running."
Cutler said he has discussed the situation with Tice "because it's so prevalent in the media for whatever reason."
"It wasn't an issue then and it's not an issue now," said the Bears quarterback. "We're happy with the win. We're looking forward to Jacksonville. We've just got to keep working hard and offensively take another step forward."
In discussing how sideline incidents get blown so completely out of proportion, Cutler said: "It wasn't like that when I first came in the league [in 2006]. There are so many media outlets out there and the competition is so great that it makes it hard. Everyone's looking for an edge, everyone's looking for a story."