ChicagoBears.com senior writer Larry Mayer speaks with coach Lovie Smith about the most pressing issues involving the Bears every Wednesday during the season.
LM: What are your thoughts on signing Josh McCown to help bolster the quarterback position after Jay Cutler suffered a concussion Sunday night against the Texans?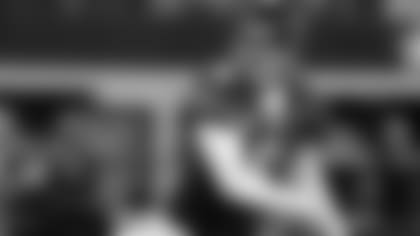 Jay Cutler's status for Monday night's game in San Francisco is uncertain due to a concussion he suffered versus the Texans.
LS: "With an injury to our quarterback, we just felt like we needed to get someone else in and he's a logical person to bring in. If we had gone with three quarterbacks at the start of the season we would have gone with Josh. Josh has done some good things for us. We know what we're getting with him. We've seen how he's played. We know how he is in the locker room. We know an awful lot about him. Jay's feeling better and we're hopeful, but under the circumstances we just felt like we needed to get someone else in here."
LM: If Cutler can't play Monday night in San Francisco, how confident are you in Jason Campbell?
LS: "I'm very confident in Jason. We've been around him. We've seen him. He's been going against the [starting defense] every day and he has a track record in the league, too. It's not like he's a rookie and he's never played an NFL game. He's been the guy before. That's why we went out and got Jason. You didn't want this time to come, but if it did come that's why we got him."
LM: What type of challenges will the 49ers present Monday night in San Francisco?
LS: "They have a great home crowd, but that's something you're going to deal with most times you go on the road. More than anything, they're a good solid football team. They have a balanced attack and they get off the bus running the ball. They're No. 1 in the league in rushing, so you start with that. And they have a lot of stars on the defensive side of the football."
LM: What's the key to rebounding from a loss like the one you suffered against the Texans?
LS: "We critique the last game and make corrections, but the key is moving on to the next team. You can't let a team beat you twice and that happens when you keep harping on what happened. Having an opponent like the 49ers, we've known that they're on our schedule for a while. They played in the NFC Championship Game last season and we know what type of football team they have."
LM: Charles Tillman and Tim Jennings both had another excellent game against the Texans. Are they the best cornerback tandem in the NFL?
LS: "No tandem is playing better than those two, and I think that speaks for itself. More people should be talking about the way those two guys are playing. I've never been on a team with two corners that have played that way. Charles Tillman has returned two interceptions for touchdowns and seven forced fumbles, while Tim Jennings has eight interceptions and a touchdown. And it's not just their pass defense. Both of our corners support the run and will come up and tackle."