In the third of a five-part series featuring Bears offensive assistants, tight ends coach Frank Smith shares his thoughts on the players he works with.
On what he appreciates about Zach Miller:
"His professional approach; just his leadership ability in the room. He's been really good especially this year with the young guys interacting with them, telling them stuff to know, 'hey, key this, see that,' just overall his daily approach. He's always been professional, always trying to get better, always wants to work on things that maybe he would say aren't the fun things to do at the position."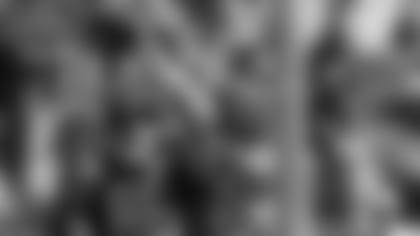 Veteran tight end Zach Miller reaches high to haul in a pass during a recent practice.


"Zach has great pass receiving ability. He's been able to win one-on-ones constantly throughout his career and recent history he's really worked on his blocking. He's come a long way in that the last couple years that we've been able to have him."
"Because he's a former basketball player [at Michigan State], to me he's a natural athlete. He's a big guy who's an athletic and sudden player. He has great hands for the position, but he also understands how to catch—getting your hands back around your body and your eyes. The biggest thing for a big is it's a lot more mass to pull back around and see. He understands the techniques necessary to get himself back in position to make catches."
On examples of Sims' professionalism:
"He asks great questions. He takes very detailed notes. He'll come in extra all the time. He constantly understands that the minute to relax and think you have everything as a pro, it all falls out. Everything he does is an understanding of how he can get better each day. Just knowing that you have to stack every moment to every situation because at some point a situation in training camp may happen in the middle of October, and you can reference it in your mind. The way he approaches everything is an indicator of all that."
On Shaheen becoming a complete tight end:
"Adam has a lot of good natural instincts to the position. He catches the ball extremely well. A lot of the techniques that come in blocking are kind of new to him, so he's just learning and you can see he's a player that once you explain something to him he grasps it very quickly. They didn't ask him to pass protect [in college], which is part of the tight end skill set. So those are things that he doesn't have experience with coming out of Ashland as much as say running routes or run blocking."
On whether Shaheen is more of a threat in the red-zone than other areas of the field:
"Yeah, just naturally because of his size. He has size and ball skills. So it's like that kid in high school, that Division I kid who's 6-6 and everyone else is 5-10. I mean they stick out. He has the size matchup ability, but just as far as trying to broaden his skill set, making sure he's got all the techniques necessary, that's the stuff we're working on right now."
On the body control that Sims and Shaheen bring to the passing game:
"Whenever you have big guys who can run inside, they just bring that ability matchup-wise. Inside, being big is an advantage. They do give those big targets inside and the ability to have big guys and guys who can do the blocking, do all the phases, is critically important to the position."
On why Sims is so dangerous in the red zone:
"It's the same thing we were talking about before—you get that size. He's a big guy, and he's a former basketball player at Michigan State. He's got great ball skills for a big guy. He's got really good instincts and awareness, so he understands what the defense is trying to do to take away certain routes, and he understands how, inside of that, he can create space for his big size."
On the flexibility the group of tight ends can provide:
"With all the guys in the group, it really does give you some flexibility. In training camp right now you get to be able to move everyone around and see what they get to do. The majority of the offseason is with no pads, and now with a couple days in pads you get to actually see what they can do. But it's exciting to be able to have the ability to spread out across the field."