ChicagoBears.com senior writer Larry Mayer speaks with coach Lovie Smith about the most pressing issues involving the Bears every Wednesday during the season.
LM: How are practices during the bye week different than typical practices during the season?
LS: "During the course of the season we very seldom have the No. 1 offense go against the No. 1 defense. It's the No. 1 offense versus the [scout team] defense and vice versa. You're also going off cards to prepare for what your opponent is doing. During the bye week, we don't use the cards. We just go out there and play. It's really like a training camp practice with the No. 1 offense against the No. 1 defense. As far as who participates, we hold out anyone who has any type of lingering injury as well as some veterans who have some wear and tear on them. It's a great opportunity for players who don't get a lot of practice reps during the season to get some quality time."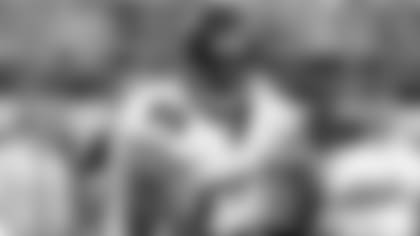 Lance Briggs has returned interceptions for touchdowns in each of his last two games.
LM: Fortunately, there have been a lot of positives through the first five games of the season. Seeing the defense score five touchdowns in the last three games has been the biggest thing to me. What have you been most impressed with?
LS: "It's hard not to be impressed with that. It's hard to score defensive touchdowns. That just doesn't happen. But I would say I'm most proud of just the defense's overall play. We're No. 1 in the Aikman ratings, which takes all of the important statistical categories into consideration. I'm pleased with third downs, takeaways, scoring, playing the run; all of those things."
LM: It's one thing to generate takeaways, but how do you explain all of the defensive TDs?
LS: "It's a mindset. It's like a sack. You shouldn't be thinking, 'I got a sack!" You should be thinking about getting the ball out. It should be a strip/fumble because the easiest time to get a fumble is on a sack. Or when there's a fumble, you see someone fall on the ball and think they've done something good. That's just part of it. That's like stopping the game at halftime. The next part is to pick it up and score. When you look at Charles Tillman's interception return for a touchdown in Jacksonville, we had a wall of blockers. Our players did a great job of instantly going from defense to offense to help him get into the end zone."
LM: Do you think some players just have a knack for generating takeaways?
LS: "There's no doubt that some players have that knack, and we have a guy in Charles Tillman who defines that as well as anyone. He certainly has a knack for doing it. If you don't have that knack, I think you can acquire it from a coach preaching it. If you're a coach, you need an example to point to and we have the best guy in the history of the game in Charles."
LM: Looking at the offense, what has impressed you most about Brandon Marshall?
LS: "Brandon's overall play has been impressive. Everything that you're judging a player on-including how he practices and how he is in the meeting rooms-he gets high marks. And then when you get to game day, everyone knows he's our No. 1 receiver and he's still very productive. In Jacksonville, he was targeted 17 times. The next guy was four. So we're going to throw the ball to him. It says a lot that they weren't able to stop him from getting the ball. We could also talk about his blocking, his leadership on a new team. He's been impressive with all of those things."