In the eighth of nine position previews in advance of training camp, coach Tim Spencer discusses Bears running backs with ChicagoBears.com senior writer Larry Mayer:
LM: How would you assess Matt Forte as a player and what has enabled him to excel?
TS: "He's a consummate professional. He prepares exceptionally well. I don't think there's anybody I know that prepares like him. Physically he's going to be ready to go. Mentally he's going to be ready to go. Not having been at OTAs or minicamp, he could be a little bit behind, but he's a smart enough athlete and some of the stuff is similar, so he'll be able to catch up in a hurry."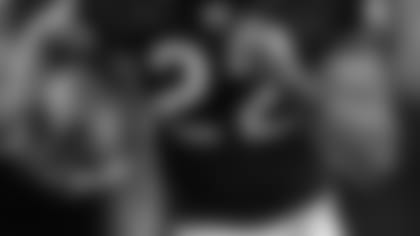 LM: How will the presence of Michael Bush help Matt and how important is it to have two running backs in this day and age?
TS: "Running backs take a lot of hits and get a lot of battle scars, so you really do need two strong guys in the NFL, and I feel really good about the addition of Michael. He is another guy who works hard, who knows his craft and is determined not to make mistakes. As a coach, you relish having two guys that know the game, work hard and are good athletes."
LM: What have been your impressions of Bush on tape and working with him in practice?
TS: "He's a big, physical runner who is faster than you think. He has very good football speed. He may look slower to some people because of his long strides. But trust me, he's covering a lot of ground. He also has soft hands and is a very good pass receiver. Quarterbacks have a feel for who they like to throw the ball to and our quarterbacks have felt very comfortable throwing the ball to him. You can tell by the number of passes he caught in OTAs."
LM: What are your expectations for Kahlil Bell?
TS: "Kahlil will be coming in as our third guy behind Matt and Michael, but he's a solid No. 3 and is exactly what you want your No. 3 to be. If something happens to one of those guys, he can step in and be No. 2. And if he had to come in and spot the No. 1 like he did last season, you feel good about his athletic ability to be able to do that also."
LM: How would you assess how Kahlil performed when given the chance to start late last season?
TS: "He performed well. He made some excellent plays for us, there's no doubt about it. He catches the ball pretty good. One of the things he's got to improve on is protection and protection recognition. That would be the thing that I would say would hold him back. But I have seen improvement from him in that aspect of the game."
LM: The Bears seem to have a lot of depth at running back with Forte, Bush and Bell. How do you feel about the talent at the position?
TS: "I'm very pleased with the depth. Since I've been here, this is the most depth we've had from top to bottom. I even feel really good about our No. 4 guy, Armando Allen. He is an excellent receiver who offers a little different flavor than the other guys. When we put him in to run the ball late last season, he ran the ball well. He's a tough guy. After Armando, we're got Harvey Unga, who's a big, strong runner. He wasn't here last year, so he's got his work cut out for him. But I do like him. He's a good receiver who runs hard." [