Bears linebacker Blake Costanzo couldn't believe what he was seeing while watching news coverage of devastating superstorm Sandy ravage the East Coast Monday night and Tuesday.
The special teams standout's hometown, Franklin Lakes, N.J., was among the areas affected by the disaster. The powerful storm has triggered floods and fires, killed at least 48 people and knocked out power for more than eight million people across 15 states and the District of Columbia.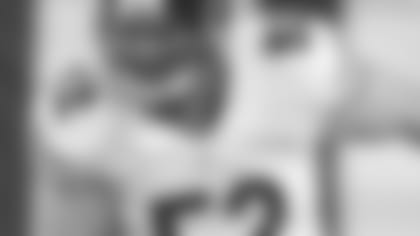 Blake Costanzo
"My whole family lives in Franklin Lakes," Costanzo said. "They're all being affected by it. They're inside hunkering down just kind of helpless. There are trees down, flooding, the power's out and there's water in the basement. But they're about an hour and a half from the shore, so they're a little more inland. They're lucky compared to the people by the coastline."
Costanzo isn't the only Bears player or coach impacted by the disaster. Defensive end Corey Wootton grew up in Rutherford, N.J., where his parents and other relatives still live.
"I've got a lot of family in northern Jersey," Wootton said. "I talked to them and they said it's mostly just really bad rain. There's been flooding, but their house hasn't flooded yet."
Offensive lineman Edwin Williams grew up in Washington, D.C., where his mother, sister, grandmother and aunt still live. Fortunately, his mom remained in Chicago after attending Sunday's game against the Panthers.
"Living on the East Coast, natural disasters usually don't hit with that kind of intensity," Williams said. "But 90 mile-an-hour winds, that's unbelievable. Hopefully everything works out. My family doesn't have power, but everybody's safe and everybody's together."
Offensive coordinator Mike Tice grew up on Long Island, N.Y., and still has friends and relatives in the area. Some have been texting him photos of the destruction.
"It's just amazing to hear that there's 32-foot waves in the New York Harbor and the record high before that was six feet," Tice said. "Just to think of the devastation, there's water in the subway and I heard there's water on the floor of the New York Stock Exchange."
One of Tice's friends who attended Sunday's game rented a car to drive home to Virginia after his flight was cancelled, but he had to stop at a hotel after getting stuck in a blizzard.
"It's affected some of my friends more than others, but so far everyone's safe," Tice said.
The superstorm caused the worst damage in the 108-year history of New York City's subway system and swept houses off their foundations. In New Jersey, rail lines and an amusement park have been washed away.
"It's just crazy to see where all the water is," Costanzo said. "I used to go to the boardwalk in Seaside Heights. It's been there for like 70 years and I heard it's completely washed out."
"You hate to hear about natural disasters anywhere, but especially at home," Williams said. "Hopefully everything will work out. Hopefully Sandy will disappear."