Change is everywhere in the NFL. First down becomes second down, and not only on the field. On any given day, at least one of the 32 teams will change its roster, opting to sign a player and release somebody else. A coach can change strategy, adjusting how a team prepares to attack or stop an opponent. A player changes the way he performs a task, opting to square his shoulder as he begins to tackle or adding an extra step before he throws the ball.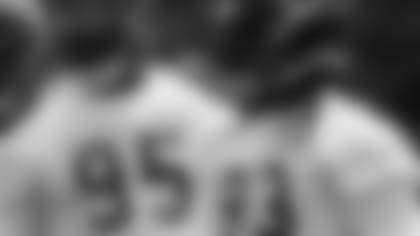 Ego Ferguson (95) and Will Sutton (93) during a training camp pracitce.
All parts of the game are constantly evolving. During the offseason, the Bears went through a great amount of change. The team changed its head coach and general manager, adding an experienced veteran and a first-timer to those respective roles. They changed more than one-third of their roster, with several new starters expected in the regular-season lineup.
Second-year defensive linemen Will Sutton and Ego Ferguson are quite familiar with the adjustments the team has undertaken. Both players were told to move positions this offseason, as the team is now running a 3-4 defensive scheme for the first time in franchise history. Their new spots on the field have meant a lot of other things have changed for Sutton and Ferguson as well, from a new playbook to a different body shape.
"My offseason was different," Sutton said. "We had to go through the coaching change and everything. I had to learn a new position. OTAs and stuff was a little rocky, just because you know I hadn't played head up nose in the 3-4 before."
Sutton's move to nose tackle, after lining up as a three-technique defensive tackle a year ago, is the new position.
"You have to be quick-footed," he said. "You have to hold that point of attack because you get double-teamed pretty much almost every play, and sometimes you feel a third guy on you."
Instead of setting up between the guard and tackle before the snap, Sutton now plays directly over the center. And with only three down linemen instead of four, his job now becomes to occupy blockers, freeing up room for the linebackers behind him to make plays.
"Being inside at the head-up nose, you don't know where the play is going," Sutton said.
Both Sutton and Ferguson finished their rookie years with 22 tackles. That's not the only thing they have in common. Like his teammate, Ferguson also moved positions on the line, going from defensive tackle to an end in the new 3-4 alignment. The new position calls for more speed and athleticism, as he will work against opposing offensive tackles.
To make the adjustment, he slimmed down in the offseason by working out three times a day with a regimen that included boxing. The program helped Ferguson drop nearly 20 pounds, as he is between 290 and 295 pounds after playing in 2014 at 310.
"I am more comfortable with the defense, understanding the blocks you are getting in this scheme," Ferguson said. "There are only certain blocks you can get in a 3-4 defense, which cancels out a lot of gaps. So understanding that you know, where the overhang is at when you're running the ball, where the help is at. Just different things like that."
Both players said they are excited to see what defensive coordinator Vic Fangio has in store for them. Fangio's defenses always have been led by strong lines, and expectations are high that trend will continue in Chicago.
"I approach it like any other situation," Ferguson said. "Whatever they tell you to do on a job like this, you have to do it, 100 miles and running. Understand what you're doing and try to conquer that."
No longer the rookies on the line, both second-year players will be looked upon to lead the Bears this fall. The players have changed positions since 2014. Now they look to change the team's statistical performance on the field, and most importantly, change the won-loss record.
"Me and Ego, we got a lot of playing time last year," Sutton said. "So we know what to expect, we know how to adjust on the fly, knowing formations, things of that nature.
"Now we have to just go out there and compete. Stats and that stuff will come."