Drafted by the Bears in the seventh and final round, Daniel Braverman is determined to show that he can compete with more highly-touted players.
It's the same challenge the rookie receiver has faced since he prepped at University School in Fort Lauderdale, Fla., where he routinely lined up with and against top college prospects.
"I grew up with a chip on my shoulder I think just from being from south Florida and always having to prove myself on the field," Braverman said. "So it's just been with me and that's just who I am really as a person.
"There's great talent everywhere. Everywhere you look there's a new five-star or four-star [recruit], and I was just the undersized kid who wasn't that highly profiled. Every game you are playing with at least 10 D-1 guys on the field."
That chip remains firmly planted on Braverman's shoulder as the 5-10, 177-pounder prepares to begin his second week of OTA practices at Halas Hall.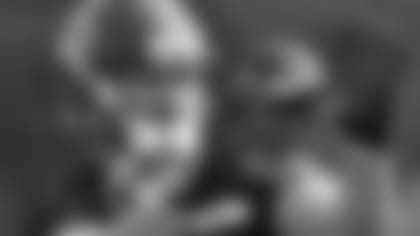 Bears receiver Daniel Braverman ranked second in the nation with 108 receptions last season for 1,367 yards and 13 TDs.


"It's an every-day process," Braverman said. "I'm still in it right now. One of my mottos is 'one day better,' and that's what I take with me. As soon as I wake up I've got to do something striving towards getting myself better as a football player and as a person."
That mentality worked well at Western Michigan, where Braverman appeared in 37 games over three seasons, catching 212 passes for 2,499 yards and 19 touchdowns. As a junior last year, he ranked second in the nation with 108 receptions for 1,367 yards and 13 TDs.
Braverman caught at least 10 passes in each of his first four games last season, including 13 for 109 yards against Michigan State and 10 for 123 yards versus Ohio State.
Despite that production, Braverman waited a long time before the Bears chose him with the 230th pick in the draft. Asked if that descent made him question his decision to skip his senior season, the 22-year-old channeled a Chicago sports legend.
"One thing Michael Jordan said is once he makes his decision he never looks back on it," Braverman said. "You can't regret anything. You've got to look forward.
"As the rounds kept passing, I was stressing; I'm not going to lie. But everything happens for a reason and I'm here right now with the Chicago Bears, and I'm just trying to take it all in and work as hard as I can."
In addition to playing receiver, Braverman knows that he'll have to contribute on special teams to make the 53-man roster. He could be an option in the return game after bringing back punts and kickoffs at Western Michigan but understands that he'll likely have to line up on the coverage and return units as well.
Braverman is flattered that some NFL analysts have compared him to Wes Welker and Julian Edelman. But the Bears rookie is more interested in honing his own skills than trying to imitate another player.
"I'm just trying to work hard every day and do whatever the coaches ask of me, and that's what I plan on doing day-in and day-out," Braverman said.
"I'm just worried about getting one day better every day. I try not to compare myself to anyone because then you have false expectations of yourself. I just try to be the best person I can be every day; that's a daily challenge I put on myself."
Braverman has enjoyed working with his veteran Bears teammates.
"They're very focused on accomplishing today's mission and that's getting better; getting the details right, getting the plays right," he said. "You can learn a lot from those guys; how they come to practice and how they carry themselves within the facility and on the field."