With the 2016 season looming, we asked 2015 draft picks Jeremy Langford and Adrian Amos what advice they'd give rookie teammates about training camp and the rest of the year.
What's the key to surviving and thriving in training camp?
Langford: The first thing is to come in mentally strong to be prepared to learn anything. I'd also say move fast and have more urgency with what you're doing. You were probably 'the guy' in college so you were probably moving at your own pace. But now you're kind of starting back over, so come into camp with a sense of urgency and move fast in everything you do."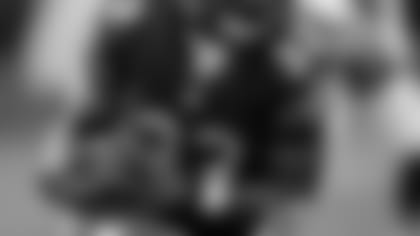 Jeremy Langford let his play on the field do the talking as a rookie, rushing for 537 yards and a team-high six touchdowns.


Amos: "Come in with the right mindset; some in to compete, not just to survive. Come in to help the team get better. Be on time, pay attention and make sure you're learning the playbook so that you can show what you can do."
How much should rookies work out in the weeks leading up to training camp?
Langford: I'd tell them to continue to do something because you've got to come into camp in shape. That's very important. I remember last year I asked a lot of veterans when I should work out. The biggest thing, like I said, is to continue to do something, but nothing too crazy."
How did training camp compare to your expectations?
Amos: "Nothing really surprised me that much. It was just about competing in every practice and trying to get better every day. I learned a lot in training camp. I ran to everything and hustled, just trying to show what I can do."
Langford: "It's turned up from OTAs because you have pads on. But when you first come out here from college, OTAs are pretty fast. Training camp is also fast, but it's a little different because of the pads."
How did you act around your veteran teammates?
Langford: "I acted like I was a rookie. I came in, did what I had to do and didn't say too much. But that's how I am in the first place, kind of to myself. I watched all the different veterans and what they did and how they went about their routines."
Did the veterans make you do anything like sing your college fight song or carry their pads?
Langford: "I did carry pads a couple times in training camp. I took our position group out to eat. I didn't have to sing my fight song, but I had to sing a song in front of the team. I sang an Usher song and I got booed."
What would you say is the biggest difference between college football and the NFL?
Amos: "The margin for error is very slim in the NFL. Having a lot of athletic ability can help you more in college overcome some mistakes, like mistakes with your eyes. But that mess up in the NFL is against someone who is just as athletic, so it can cost you a lot more than it would in college."
What advice would you give rookies about handling their money?
Amos: "Just be smart. Set a budget and stick to it. I didn't buy anything too extravagant. I'm kind of tight with my money anyway."
Langford: "Don't do anything crazy. The NFL is not guaranteed for you too long. Help people out you need to help, but just don't be too generous with everything at first."
When did it really sink in that you were actually in the NFL?
Langford: "It was my first time running through the tunnel. It was a preseason game, but it was still running through the tunnel in an [NFL] uniform and seeing the fans. That's what stood out most."
Did you hit the proverbial rookie wall?
Amos: "Not really. I mean, your legs are tired. But you learn how to take care of your body throughout the season. I wouldn't say I hit a rookie wall, but I think there's a wall that everybody seems to hit. Everybody says their legs are tired. It's just about taking care of yourself.