Jim Zwit and Randy Kusiak both grew up in the Chicago area and have been friends for nearly 50 years. But the two lifelong Bears fans met when they were more than 8,500 miles from home in a Vietnamese jungle.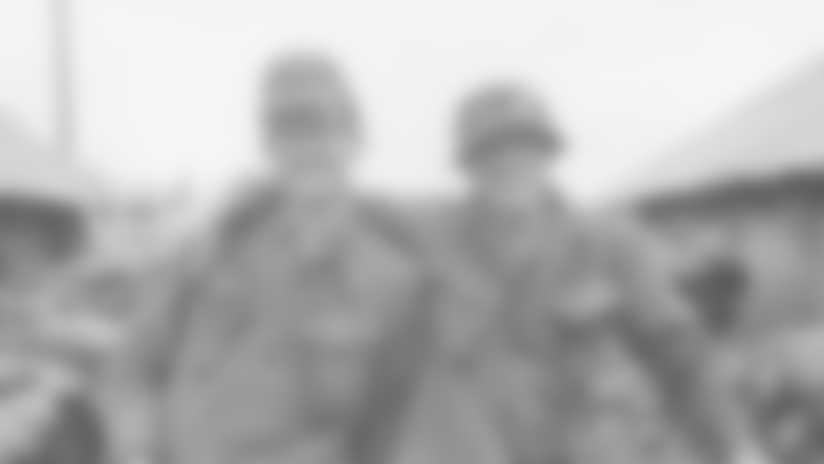 "I was a young 19-year-old punk and I probably had four-and-a-half months of combat experience," Zwit said. "I get a call on the radio. They go, 'Hey Z, we've got a new guy from Chi-town in the unit. We're going to send him out to the field.' I said, 'Wait a minute, ask him Cubs [or] Sox?' The radio guy goes, 'Cubs, over.' I went, 'Forget it. I can't trust him! Don't send him out here!'" 
Sitting side-by-side during an hour-long interview a couple weeks ago, the two old friends roar with laughter when recounting their first meeting. On this day, Zwit and Kusiak have just arrived in Minneapolis after winning two tickets to Super Bowl LII from the Bears. Zwit entered the contest that required entrants to submit an essay about who'd they bring to the Super Bowl and why.
Hearing their amazing story and the bond they've shared for nearly five decades, it's easy to understand why the two Vietnam veterans won the Super Bowl tickets. On April 15, 1971, Kusiak helped save Zwit's life by pulling him to safety after he was wounded in a fire fight.
"We were retrieving a body of a guy who was killed a couple days earlier," Zwit said. "Turned out there were 1,500 enemy waiting for us...and they let us walk right into their trap. We were 78 strong against 1,500 and we took a beating. We had eight guys killed, 13 wounded. I was one of the wounded."
Kusiak helped drag Zwit to safety and he was eventually airlifted out of the jungle. As you'd expect, Zwit will always be grateful to his friend and is a little surprised that Kusiak has never held his life-saving actions over his head.
"He's never brought it up," Zwit said. "We talk about it, but not once in his life has he said, 'Hey, the reason you're alive is because of me,' which I probably would have did to him. But he didn't do that to me, and I've never forgotten that."
Zwit was hospitalized for 20 months and underwent 18 surgeries, surviving injuries that could have-and probably should have-cost him his life. 
"I got the after-action report for that night," Zwit said. "It says, 'Specialist James Zwit was brought to the 84th evac. Doctors do not believe he will live.' I thought, 'Guess what, I fooled them. It kicked my butt, but I was fortunate to survive.'" 
During and after Zwit's recovery, the two men remained close friends. To this day, they still play golf, go to Bears games and attend reunions of the 501st infantry 101st airborne division.
Attending the Super Bowl earlier this month in Minnesota was an experience both men will never forget. Kusiak's eyes light up when he recalls receiving the phone call from the Bears informing him he had won the tickets.
"The only time I won something, I think I remember was like 1962 when I was a kid," Kusiak said. "The Beatles were popular, electric guitars came out. I won a set of accordion lessons. That's about the only thing."
Zwit became very emotional when he got the call from the Bears telling him he had won the Super Bowl trip.
"What the Bears did for us, I will tell you and he will tell you, I cried," Zwit said. "It just made us proud of our service and that the Bears are recognizing us for the sacrifices we made long ago and took my letter and understood what it meant to the both us; our friendship, the sacrifice we made and being appreciated."