Bears owner Virginia McCaskey, the daughter of legendary Pro Football Hall of Famer George Halas, is featured in the current edition of Drexel University's LeBow College of Business alumni magazine.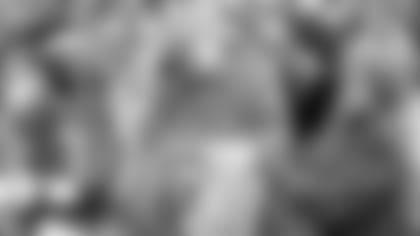 Ed and Virginia McCaskey present Walter Payton with a portrait at Payton's last home game in 1987.
The story in Market Street Magazine focuses on how faith and family have influenced Mrs. McCaskey's life, and how she views her role leading the Bears as "sacred duty."

Mrs. McCaskey officially assumed ownership of the franchise after her father passed away on Oct. 31, 1983 at the age of 88. Halas helped found the Bears and the NFL in 1920 and led the organization to eight league championships as a player, coach and owner.

"I realized that I was in that position because my dad had enough faith in me to make it possible," Mrs. McCaskey told Market Street Magazine. "I think we both knew how much the Bears meant to me."

The article also focuses on Mrs. McCaskey's 60-year marriage to Ed McCaskey, whom she met when she was a sophomore at Drexel. The couple married in 1943 and had 11 children together. Ed passed away in 2003.

"There is no one word to describe him," she says. "We had 60 good years. They weren't always easy. We had eight sons and three daughters. He used to call me 'Laughing Girl' because it was either laugh or cry. But it was all good.

"I think the thing that guided us in our married life was the fact that we thought that God was in charge, and I think He still is."