In the fifth of a five-part series featuring Bears offensive assistants, offensive line coach Jeremiah Washburn shares his thoughts on the players he works with.
On shuffling different players in and out of the lineup:
"I think that's an advantage for us right now. It's a good part of training camp to be able to do that, to be able to mix and match. You guys saw it last year with this group. There were new starters about every week, so you want to get these guys used to playing next to each other, communicating with each other, different calls."
On center Cody Whitehair: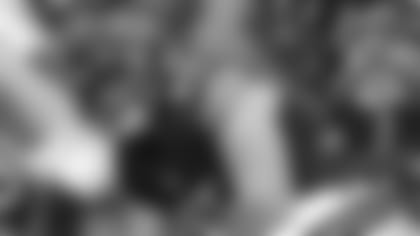 Cody Whitehair started all 16 games at center last season as a rookie.


"You can't help but love him. We did the combine interview—I was with the Dolphins when he was coming out—and he was like five inches from my face during the interview. We were sitting in chairs and I thought, 'My gosh, this guy is so intense.' That's what he is. He's an intense, serious professional. Nothing but positives from the get-go."
On how Whitehair can make a leap in his second season:
"I had that with [Larry] Worford in Detroit and what they're going through with [Laremy] Tunsil where I was just at, in Miami. You don't want them to think they have to go too far, because a lot of guys in their second year are going to think they have to do too much, they have to be all of this. It's really not all that. You're still on a progression from Year 1 to Year 2. Just to do the basics well. I know that's cliché, but that's really what it is for these guys going into Year 2."
On instilling his own identity with line:
"That's going to come from the players. I don't want to pass on the question, but that's ultimately going to be up to them. It's the players who decide their identity. It's not us. There are a lot of slogans around a lot of facilities the NFL, college, high school, and ultimately though, it's the guys on the field that carve out that identity. So it's just going to be through work out here and as we get guys back or guys move in and out of the lineup, that's how we'll carve that identity and that vision we have for this offense."
On the line working together with Bears running backs:
"You do want to do what's best for your backs. We've got a good backfield, top to bottom. So the thing that we have right now that I feel good about is we do have some rapport among the staff in terms of [running backs coach] Curtis [Modkins] is really good at articulating what his backs can do and what we see them do. And that is something we are very cognizant of in terms of our blocking schemes, our blocking patterns, our blocking tempo has to reflect that of our backfield. And so yeah, that's absolutely something we look at all the time."