J'Marcus Webb and Chris Williams![](/team/roster/chris-williams/f80a3821-98f2-4997-a53d-1e0a275a2768/ "Chris Williams") both could get first-team reps in Saturday night's preseason game against the Redskins as they vie for the Bears' starting left tackle position.
"We want to make sure we have some type of rotation when we go into the game where both guys are going against their good rushers," said offensive coordinator Mike Tice.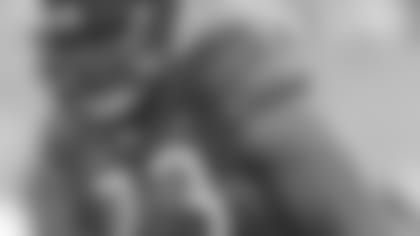 The Bears selected offensive tackle

J'Marcus Webb

![](/team/roster/jmarcus-webb/692614a5-e79b-4168-a4c9-5e2e93d58306/ "J'Marcus Webb")in the seventh round of the 2010 NFL Draft.
"The problem with the second preseason game is how much are 98 [Brian Orakpo] and 91 [Ryan Kerrigan] going to play? We certainly want to make sure both guys, whether it is a series or two series, get some action against 98 and 91. That is very important for us in our evaluation process."
Tice announced early last week that Webb would remain the No. 1 left tackle until further notice. But the third-year pro failed to perform up to expectations in last Thursday night's preseason opener against the Broncos, creating an opportunity for Williams to win the starting job.
"I felt like Chris had a solid game and I didn't feel like the other player was up to par as far as the standards we're trying to set at protecting our quarterback," Tice said. "So we're going to make sure that we continue to see who's going to emerge there as the guy."
The left tackle who performs better against the Redskins—especially when it comes to pass blocking—could very well move to the top of the depth chart heading into the third preseason game.
"I have trouble sleeping at night until I know that our quarterback is protected," Tice said. "We want to see our guys go out there and compete and win more individual battles than they're losing. It is hard to win every battle. [But] we certainly need to win more battles than we won the other night."
One focus: Webb is one of the most active Bears players on social media, interacting via Facebook and Twitter with his fans, a group he has dubbed "J'Webb Nation."
Tice isn't worried about those activities becoming a distraction. The Bears offensive coordinator is only concerned that the 24-year-old improves as a football player.
"Anytime your players are playing with inconsistency, as a coach you struggle," Tice said. "You want to look at what you're doing first. What kind of drills? What do you ask him to do? How are you teaching it? How are your power points going? What kind of film are you showing them? What kind of notes are they taking?
"I think that's all you can do. I can't worry about 'Webb Nation' and all of the other things he does socially. That's not for me. He's a grown man. I just want him to play better football for us."
Standing tall: The Bears offense has played better football in training camp in part because quarterback Jay Cutler has connected frequently with big receivers Brandon Marshall (6-4, 230) and Alshon Jeffery (6-3, 216).
"They've got a wide net," Cutler said. "Your margin for error isn't quite as bad as with some other guys. You just throw it up there and they make you look good. They do a great job getting off press [coverage]. [ ](http://www.phoenix.edu/campus-locations/il.html?utmsource=Story&utmmedium=instory&utmcampaign=300x100)
"Alshon has really come on. I thought during minicamp and OTAs he was hampered a little bit by injuries, but he played well as everyone saw in the first preseason game and he's getting more and more confident and we're expecting big things from him."
Woman's view: Marshall and Jeffery dominated in a red-zone drill during a recent practice, combining for five touchdown receptions on fade passes over smaller defensive backs.
Tice's wife, Diane, apparently was among those impressed with the performance.
"We always love our wives because they keep us grounded," Tice said. "She said to me, 'Gosh, I see you guys scored a lot of touchdowns in the red zone.' I said, 'Yeah, we have some weapons.' She said, 'Why don't you try getting down there a little bit more?'"