Still not completely familiar with the Bears' 2017 draft class? Here are 15 things you need to know about the team's five picks: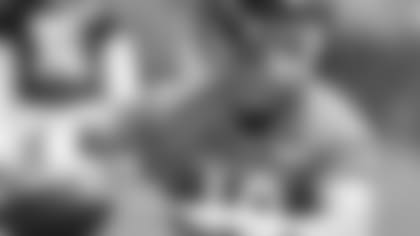 Mitch Trubisky set single-season North Carolina records last year by passing for 3,748 yards and 30 touchdowns.


(1) The first-round selection has made a positive first impressive on second-round choice Adam Shaheen. The quarterback and tight end are working together on the field and in the classroom and also rooming together at the hotel where the team houses its rookies.
"He's definitely going to be a great player and a great leader," Shaheen said. "It's just the demeanor with which he carries himself, as well as he's in the [playbook] really trying to learn and develop himself as a starter."
(2) Trubisky has enjoyed working with quarterbacks coach Dave Ragone, who's entering his second season with the Bears. As a player, Ragone appeared in two games with the Texans in 2003, completing 20 of 40 passes for 135 yards and one interception.
"Coach Ragone and all the coaches have really been great so far," Trubisky said. "He really took me under his wing right away and just taught me the offense and everything I need to do. There's a lot of attention to detail with him and I feel he's really passionate about coaching. I love that and I love learning from him."
(3) Trubisky feels that he benefitted from backing up Marquise Williams for two seasons at North Carolina before being anointed the starter last year.
"It was frustrating not getting my opportunity," Trubisky said. "But it also taught me a lot of things about patience and what to do in the meantime to work and continue to better yourself—and ultimately how to be a great teammate throughout the process when things aren't going your way. It made me the man and player I am today. I'm thankful for it. And I still have a lot of room to grow."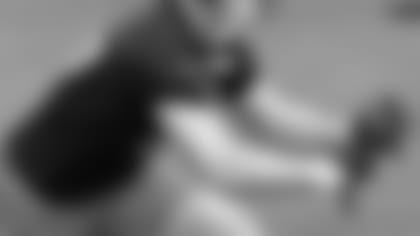 Adam Shaheen set a single-season record for touchdowns by a Division II tight end last year with 16 while playing at Ashland University.


(4) The big tight end was thrilled to discover that there's a Chipotle restaurant near the hotel. The tight end weighed 195 pounds when he graduated high school and bulked up to 278 pounds in part by devouring massive quantities of burritos at a Chipotle while he attended Ashland University.
Shaheen visited the Chipotle near his hotel the first two nights of rookie minicamp. "I do have a go-to order," he said. "I get a burrito and then I get extra white rice and then double chicken. You've got to tell them one scoop of chicken because they'll try to mix it in and you won't get as much. Then just a little bit of corn and that's it."
(5) Shaheen said he was able to maintain his speed and athleticism while adding more than 80 pounds by "stretching a lot more."
"That's huge, the flexibility," he said. "I had some good advice that the mobility is what's going to really help you achieve long-term success. So I made that an important part of what I did as well as being out there and running and not just being in the weight room."
(6) It didn't fully sink in that Shaheen was an NFL player until he arrived at Halas Hall last Thursday for rookie minicamp—13 days after he had been drafted. "It really didn't hit me until we reported," Shaheen said. "Walking in the building, it was like, 'this is real.'"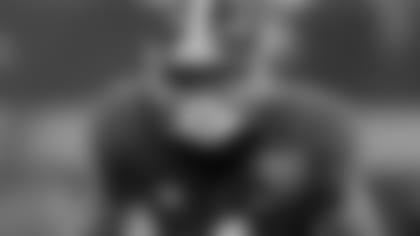 Eddie Jackson returned three interceptions and two punts for touchdowns at Alabama.


(7) The fourth-round pick, a safety from Alabama, was limited to individual drills during rookie minicamp as he rebounds from a broken leg he sustained last Oct. 22 while returning a punt against Texas A&M.
It wasn't easy for Jackson to watch 7-on-7 and 11-on-11 drills from the sideline. "It's definitely hard, especially coming from where I came from," Jackson said. "I just want to go out there and compete and show everybody what I can do. I'm just leaving it up to them. We're taking it slow."
(8) Returning punts for the first time in his career last season, Jackson took two of 11 returns to the house—an 85-yarder against Mississippi and a 79-yarder versus Tennessee.
"I have good vision," Jackson said. "I'm able to see things and I feel like my team played a big part in that when I was at Alabama—setting up blocks, seeing what alley you can take and what not to take, which way to go, when to burst full speed and when to slow it down."
(9) After being drafted by the Bears, Jackson received some advice from Ha Ha Clinton-Dix, his former Alabama teammate who is now a Pro Bowl safety with the Packers.
"He just told me to come in, work hard, learn the playbook and just get in the playbook, learn as much as possible," Jackson said. "Just come in ready to work. Just know it's a job interview. You've got to come in and compete. Nothing's going to be given."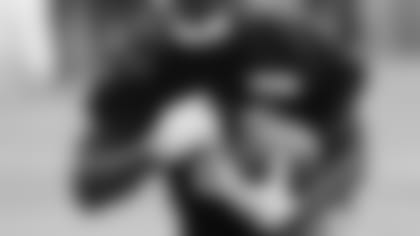 Running back Tarik Cohen is the MEAC's all-time leading rusher with 5,619 yards.


(10) The fourth-round pick, a running back from North Carolina A&T, gained Internet fame when a video of him catching two footballs while executing a backflip went viral. Cohen's days of doing backflips appear to be over, however.
"[The Bears] asked me [to stop] as soon as they called me on draft day," Cohen said with a laugh. "Coach [John] Fox said, 'Hey, how are you doing? Are you ready to be a Chicago Bear?' I was like, 'Yes.' He said, 'OK, you don't have to do anymore backflip catches.' I said, 'OK, sir, I'm done with that now.'"
(11) Nicknamed "The Human Joystick" for his dazzling moves on the field, Cohen admitted that sometimes he even surprises himself with his elusiveness.
"Some things shock me," he said. "When I turn on my college tape sometimes I wonder, 'How did I get out of there?' Most of the time when I'm out there, it's a reaction. You can prepare yourself in practice, but practice is never going to be game-simulated. It's never going to be exactly how the game is. Most of the moves I do, the cut moves, stopping on a dime, it's really reaction."
(12) Known as a cutback runner in college, Cohen adjusts his running style based on the type of defense he's facing.
"If it's an aggressive defense, they want to hurry up and get to the point of attack and hurry up and stop me before I get into my cut, and then I can work on the cutback because they're flowing over the top," Cohen said. "But if it's a laid back defense, really tracking my backside hip, then I hit it outside the front door and try to beat the safety and the DBs."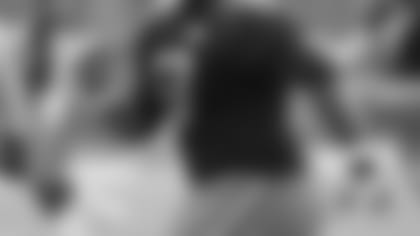 Offensive lineman Jordan Morgan was the only player the Bears drafted from the North squad they coached in the Senior Bowl.


(13) The fifth-round pick, an offensive lineman from Kutztown who played for the North squad coached by the Bears in the Senior Bowl, was pleased with how he performed at rookie minicamp.
Asked what he accomplished, Morgan said: "Just proving that I belong, that I can pick up things quick and I can really make a difference out here. I know ultimately the coaches have an experience with me down at the Senior Bowl, and I think this just further solidified to them why they should have picked me."
(14) Playing against top competition in the Senior Bowl has helped ease Morgan's transition into the NFL.
"I would definitely say it did, just getting used to a higher level of play than I did play traditionally in college, as well as just terminology and how certain things work," he said. "Coming out here, I didn't even feel a gap. I felt pretty used to it pretty quick."
(15) After playing left tackle in college, Morgan is projected as a guard in the NFL. Asked about making the adjustment, he said he is "continuing to get used to playing in less space. Down at the Senior Bowl I got a pretty good taste of it, and I think that contributed to me [at rookie minicamp] being able to adjust so much quicker and feeling more comfortable."