Marquess Wilson will never forget the relief and excitement he felt a year ago when the Bears called to inform him that they were selecting him in the seventh round of the draft.
Despite a highly-productive career as a receiver at Washington State—where he set an all-time school record with 3,207 yards—Wilson feared that he would never play football again.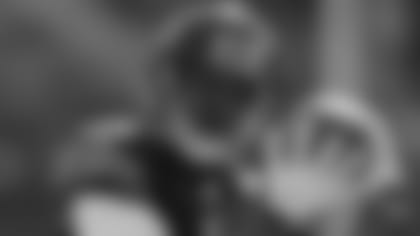 Marquess Wilson will compete for the third receiver position this summer.
The 6-4, 184-pounder had left the program the previous season after accusing head coach Mike Leach of abuse. Wilson walked out of practice, earning a one-game suspension, and never returned to the team. He was more than a little concerned about how the situation would be perceived by NFL teams.
"My mindset was I didn't think I was going to get drafted and I might not ever play football again," Wilson recently told ChicagoBears.com. "I didn't know if anybody was going to give me a second chance, so I was very thankful when my name got called and I was given that second opportunity."
Seeing prospect-after-prospect he had played with and against get picked while he remained on the board, Wilson grew frustrated and turned his attention elsewhere when the seventh round began.
"I wasn't even watching the draft anymore," Wilson said. "I was like, 'If I get a call I get a call.' I was playing video games. I was like, 'I'm not going to watch this anymore.'"
Then came a phone call from Robyn Wilkey, general manager Phil Emery's assistant, that changed Wilson's life, not to mention his mood.
"At first I didn't know who it was," Wilson said. "I was like, 'Wait, are you playing with me?' I didn't believe it at first. I remember yelling to mom to turn on the TV. It was just a great feeling."
Emery and the Bears had done extensive research on Wilson's character in advance of the draft.
"We've been up there several times, talking to people from all parts of his life chronologically," Emery said last year after picking Wilson. "We definitely did our due diligence.
"We felt at that point in the draft that a person of this kind of talent deserved a second chance. His biggest sin is he walked out. He made a young decision. He's just 20. He's going to be 21 this fall. We felt very comfortable that this was a good person who made an immature decision. He's owned up to that decision. He's ready to roll. We're very excited he's with the Chicago Bears."
A year later, the Bears are extremely pleased with the decision to draft Wilson, who's proven to be a hard-working, dedicated young player who is committed to honing his skills.
Wilson also has been accepted by his teammates. Jay Cutler looked his way in a key situation in the fourth quarter of last year's season finale against the Packers, and the young receiver responded by producing a first down with a 10-yard reception in traffic. A few months ago, Wilson went down to Florida to work out with fellow receivers Brandon Marshall and Alshon Jeffery and other Bears teammates, including Cutler.
After showing promise as a rookie, Wilson will compete for the third receiver position behind Marshall and Jeffery. As he prepares for his second NFL season, Wilson remains extremely grateful that the Bears drafted him following his departure from Washington State.
"It definitely helped me out when the Bears called my name," he said. "It made me a better person and made me want to work harder. When I first got here I was like, 'This might be your last down' so you've got to take it like that each and every day.' That's definitely my motivation, just wanting to stay in this game for a very long time."