---
---
Bears director of partnership activation builds relationships with trust
Story by Larry Mayer
Bears director of partnership activation Melissa McDermott views the clients she works with as more than just business associates.
"I've met so many great people and worked with so many great people, some people who will be my lifelong friends," said McDermott, who joined the Bears in 2007 initially as client services coordinator.
"Building those relationships with our clients makes our team and our partners' team special. We go deeper with people and we build these personal relationships, which in turn makes our business relationship that much better. It enhances it. There's a trust level, so if there's a challenging situation, they know we're going to do them right and we're doing everything we can to fix it. We're not transactional, and I think that's what separates us from other teams."
McDermott didn't have to be told how to treat the partners she works with. Her people skills clearly are rooted in the way she was raised by her parents, Hoyt and Joan Peckham.
"I think I'm very friendly," said McDermott, who grew up in Livonia, Mich., a Detroit suburb. "My dad was a lawyer. He knew everybody's name: secretaries, assistants, janitors. My mom's the same way."
Among those who benefit from McDermott's approach is Craig Esko, a senior vice president at PNC Bank, one of the Bears' seven Hall of Fame partners.
"It's a belief on both sides it's more than just a transactional partnership," Esko said. "It has become a friendship. We ask about each other's families. It's truly caring beyond more than just a logo.
"We have very candid discussions and I know that Melissa is going to go to bat for me. She's going to try to get done as much as she possibly can for me and for PNC and she will fight for that. There's trust to know that she's going as far as she possibly can to make something work and succeed for PNC."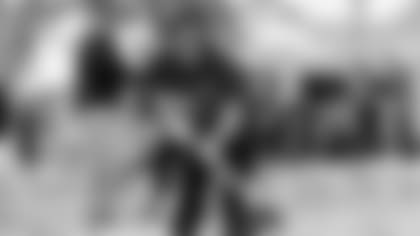 McDermott didn't realize it at the time, but her path to the Bears began when she was a child. Her father shared his love of sports with Melissa, who became a diehard fan of University of Michigan football and the Detroit Red Wings hockey team. Growing up, she danced and participated in gymnastics.
Studying marketing at Western Michigan University, McDermott landed an internship with the Kalamazoo Wings, a minor league hockey team.
"I was a game-day intern, setting up promotions, slipping on the ice, trying to set up inflatables and things like that," she said with a laugh.
McDermott wrote a thesis on how to create a kids club for a minor league hockey team and presented it to the Kalamazoo Wings. She was also the president of her business fraternity in college.
While attending Western Michigan, McDermott accepted an internship in London at a media investment agency in the summer of 2003.
"It was awesome," she said. "We called it the 'Real World.' I lived with five people I didn't know. We're all still friends to this day. It was a great experience and it got me comfortable going to a new big city."
After graduating in 2004, McDermott landed a job with the Chicago Wolves minor league hockey team working with sponsors.
"I love that it combined business and sports because that's ideally what I wanted to do," she said. "That experience solidified exactly why I wanted to go into sports. I loved it so much. I loved going to work every day. I was passionate about it."
After three years with the Wolves, McDermott was hired by the Bears as client services coordinator in 2007. She was later promoted to client services manager in 2009 and director of partnership activation in 2015. She currently leads a team of six full-timers and two seasonal workers.
Maggie Geraldi, manager of partnership activation, is among those who report to McDermott.
"It's awesome working for Melissa," Geraldi said. "She instills a hard-working ethic in all of us and gives us autonomy to do our jobs and do our jobs well. She doesn't micromanage. She gives us the tools and confidence and lets us go forward. But she's always there if we need help. She's a great resource and safety net for us."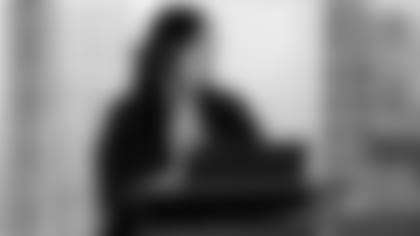 McDermott considers the eight individuals she leads with the Bears like a second family.
"My team is definitely what drives me every day, motivates me, makes me work harder for them," McDermott said. "I think it's the motherly instinct in me, but it's making sure they're taken care of, are they doing OK, especially these past two years: 'Are you OK? What do you need? How can I help?' I want to make sure no one is suffering, whether it's personally or professionally.
"I just try to go that extra step to take care of my people and show them how much I appreciate all the work that they do for our team. I think that goes a long way. I've had very little turnover the last several years, which I think speaks volumes about our team in general.
"We have each other's backs. That's the biggest thing. If someone is sick, can't make an event, our team, they all raise their hands and say, 'I'll jump in and help. How can I help?' We all just chip in and nobody complains, nobody rolls an eye, and I think that's very special."
"It's awesome working for Melissa. She doesn't micromanage. She gives us the tools and confidence and lets us go forward. But she's always there if we need help. She's a great resource and safety net for us." Bears manager of partnership activation Maggie Geraldi
As the mother of two, McDermott understands the importance of balancing work and spending time with family: her husband, Steve, their son, Billy, 8, and their daughter, Maddie, 5.
"Having two young kids, I like to be there as much as I can," McDermott said. "There's one working parent on my team and I want her to be able to do those things with her daughter and not feel guilty about it. I know in turn the flexibility I can give her will make her work harder, be more productive and won't make her want to leave in a year.
"That's just something that I preach, is the flexibility with the team. It's hard being a working parent and to balance it all. I used to stay late in the office before I had kids and work late. But now I leave at a good time so I can be home and have dinner with the family. And then if I'm really busy, I can plug in at night after they go to bed. But it's important for me to spend that time with them when they're so young."