Wade thrilled to meld passion, purpose with Bears
---
---
Attending a Bears game on a Sunday afternoon in November 20 years ago, Tanesha Wade didn't need a crystal ball or a time machine to see her future.
On the field, the Bears turned a late 21-7 deficit into a miraculous 27-21 win over the Browns, scoring two touchdowns in the final :28 of regulation before Mike Brown returned an interception for a TD in overtime for the second straight week.
It remains one of the greatest comeback victories in Bears history. But as Wade sat in the stands on the east side of Soldier Field with a close friend, she was just as mesmerized by all of the ancillary aspects of the game presentation she was hearing and seeing.
"I was listening to the music. I was watching all of the action. I was looking at everything because clearly that's what I'm here to do on this earth," Wade said. "I was looking around at everything and I was like, 'That is so cool. I wonder who's doing this. Who's the one making those decisions? Where are they in the stadium?' I'm looking all around. I remember that day so vividly. And it's interesting because that is exactly the seat I'm in."
Wade has been in that same seat—as Bears director of events and entertainment—since 2013. She obviously didn't know it at the time, but it's the position she wistfully wondered about while attending the 2001 game at Soldier Field. In her role, she's responsible for overall game presentation—including all entertainment elements—as well as major fan events such as the Bears Draft Day Party, Family Fest and training camp.
"On a game day, everything that you see going on outside of what's on the field, my team has its handprint on," Wade said. "Tailgating, activities on the concourse, fan engagement during the game, pregame and halftime entertainment, the music, fireworks, videoboard, pyrotechnics and anthem."
Returning home to begin journey
Wade, who grew up in Des Moines, Iowa, graduated from Oregon State University in 2000 with a business degree. She played basketball in college and had an opportunity to play professionally overseas. She also considered remaining in Oregon to look for a job, but she ultimately decided to seek employment back home in Iowa so she could be nearby her close-knit family.
"Because I am so close to my family and I like to clearly torture myself with weather, I decided to come back home," she said.
Wade's family includes her mother, two brothers, two sisters and niece as well as a step-mother, two step-sisters and a step-brother. She was also extremely close with her father, Melvin Wade, who passed away in 2003.
"He got me into sports, especially football," Tanesha said. "Although I played basketball, I loved watching football with him. It was kind of our thing. I enjoyed it. It was our time together."
Wade laughs when recalling that her father, as a diehard Vikings fan, dressed in purple from head-to-toe on gameday. Their competitiveness, she surmises, is a main reason she began rooting for the Bears long before she had any ties to the franchise. That, and her admiration for legendary Hall of Fame running back Walter Payton, who had already retired from the NFL before Wade starting watching football with her dad.
"[Payton] was always my favorite," she said. "I read his book multiple times. I learned about him at a young age and became a Bears fan; just his story about perseverance, how hard he worked. And the hill [where Payton trained] actually was a big part of what I enjoyed reading about, and how he brought his teammates along and was so revered just kind of fascinated me. That was a history of an athlete I was really interested in."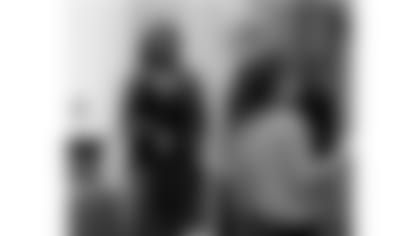 Embarking on pro sports career
Determined to work for a professional sports team, Wade had only two options in Iowa, both in her hometown of Des Moines. There was the Chicago Cubs Triple A baseball team, and an Arena Football League franchise, the Iowa Barnstormers, who are best known for launching the pro career of Hall of Fame quarterback Kurt Warner.
Wade's cousin worked as a receptionist for the Barnstormers, so she often visited the facility and volunteered to answer phones and help wherever she was needed. With persistence and a strong work ethic, she ultimately convinced the Barnstormers to create an internship for her.
One day Wade answered a call from Felisa Israel, who was coordinating a WNBA all-star tour that was planning to play a game in Des Moines to help promote the new women's professional basketball league. Israel was looking for halftime entertainment and Wade suggested the Isiserettes, a drill and drum corps that was founded and operated by Wade's family in Des Moines.
"I invited her to a practice and she was obsessed," Wade said.
"They were frickin' phenomenal," said Israel, who spent more than 20 years with the NBA and now operates her own live event production company. "I felt like I found a goldmine in the middle of no man's land."
Israel was so impressed with Wade that she hired her to work the WNBA game in Des Moines and remains a mentor and friend two decades later.
Wade's first meeting with Israel showed the future Bears director of events and entertainment what she could achieve as a woman in pro sports. "That was the first time I saw what was possible," Wade said. "I had no idea."
"I'll never forget it," Israel said. "She just looked at me wide-eyed like she was inspired by me working in a very male-dominated industry at the time. I just saw her tenacity and how she took initiative to help me and guide me and direct me. She was just being so helpful and kind."
Wade was elevated by the Barnstormers into a full-time position as a business assistant in 2001. In her new role, she handled a wide variety of tasks, including paying vendors, helping to create the media guide and—perhaps most importantly—assisting in the game-day presentation.
"It kind of opened up this whole world of the production side of things," Wade said. "Basically I ended up finding out how to put together a show, what goes into it and how you work together with all the other departments."
Heading to the Windy City
Wade's goal was to eventually land a job with a major league sports team in one of the three big cities closest to Des Moines—Kansas City, Minneapolis or Chicago. She felt an especially close bond with the Windy City—and not only because she frequently visited Chicago with friends.
"I was an obsessive Michael Jordan fan," Wade said. "I watched every Bulls game. I had posters all over my wall. Every time we came [to Chicago] we would go and stand in front of the Michael Jordan statue and take pictures. There was something that just kept drawing myself back to Chicago. It's an amazing sports city. I've always enjoyed the culture and what it had to offer. Chicago was always the place I wanted to be."
Wade landed her first job in the Second City in 2001 when the Chicago Rush of the Arena Football League hired her as assistant director of marketing and operations. She spent seven memorable seasons with the team before the league folded in 2008.
Wade made quite an impression on Mike Polisky, who served as the Rush's president and general manager for her entire tenure with the team.
"She had an amazing attitude," Polisky said. "I don't ever remember seeing her without a smile on her face and just terrific energy. I really look at her as a near-perfect colleague. She's amazing, she really is. She's driven, but incredibly empathetic. People love working with her, people love working for her. No job is beneath her. She's incredibly responsible, detail-oriented, supremely talented and she's just terrific. And then she has this passion about her and drive to be exceptional at what she does, but she never ever puts anything in the way the team mentality."
Polisky's praise of Wade continued unabated.
"The one thing that I always knew about her was that we were going to find the solution," he said. "During our eight seasons together, whenever there was an issue and we needed it to get resolved in the right way, she'd be the one that we would call.
"Overseeing everything that happens on game day, she just did it with such poise. There was a ton of pressure and she could have struggled with some of the obstacles we ran into, but she never did. And people absolutely loved her. They talk about her to this day. I'm still friends with people over at Allstate [Arena]. They still talk about how terrific she was."
Landing her dream job with the Bears
After the Arena Football League folded, Wade was hired by the University of Minnesota. She was serving as the school's director of premium seating and events in 2013 when she received an email that changed her life. It was from a former colleague at the Rush, Brian Forth, who worked for the Bears and was informing her that the Bears were hiring a director of events and entertainment.
"It was sent to an old Hotmail account that I never check," Wade said. "Something told me to check it. All I saw was junk mail, but something told me to check every page of the junk mail. No one does that. But I did that day and I saw an email from Brian Forth. I opened it and it was about the role that I saw in my head at the [2001 Bears] game that day."
Twelve years after sitting in the Soldier Field stands envisioning herself in that position, Wade interviewed for the job and was hired by the Bears. "It was an amazing journey," she said. "To me, it felt like it's exactly where I'm supposed to be."
Whether it's showcasing visuals on the videoboard, developing an interactive experience or coordinating the halftime celebration of a Bears legend, she's proud to see fans enjoy something that took weeks or even months to plan.
"The work that goes on behind the scenes to make something come to fruition, when I see it happen, that's worth every bit of the hard work," Wade said. "When an idea or something we worked really hard on or we know we're doing for a good cause or good purpose comes to fruition, seeing that, especially on a game day, it just sends chills down my spine."
The goal of the events and entertainment department is to create experiences that fans will never forget.
"What I love most about this—and it's been amplified going through this year of the pandemic—is being able to create memories for people that really impact their lives," Wade said. "That to me is the most unique part of what we get to do. We get to be creative and find ways to put smiles on faces. We get to find ways to create lifelong fans. To have a hand in that is awesome. I love positively impacting people in any way I can, whether it's through my job or my mentorship opportunities or any way I can help. That means a lot to me."
"People love working with her, people love working for her. She's incredibly responsible, detail-oriented, supremely talented and she's just terrific." Former Chicago Rush president and general manager Mike Polisky on Tanesha Wade
Making a difference for others
Giving back and helping others realize their dreams is something that drives Wade. As part of the Big Brothers Big Sisters program, she's been a "big sister" to Charnyl Hood, a 12-year-old Chicago girl, for five years.
"My daughter loves her," said Charnyl's mom, Chaka Pope. "She has a good personality. I [get] good vibes from her. She's just a lovable person."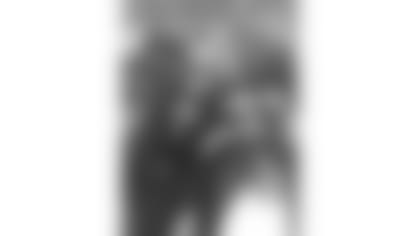 Wade also mentors young professionals as part of Women in Sports and Events (WISE) and Black Sports Professionals (BSP).
Wade is especially excited about recently becoming an adjunct professor at Northwestern University. She's currently in the process of developing a 10-week sports event management class that she'll teach this summer.
Wade has wanted to become a teacher since she was a little girl because that's what an aunt she adored—Charisse Singleton—did for a living.
"[The opportunity at Northwestern] is exciting," Wade said. "I immediately thought of my Aunt Charisse, who passed away of a brain tumor a couple years ago. She's the first person who came to my mind. I always wanted to be a teacher because of her when I was young. I believe teachers are superheroes. So I take that seriously, and I'm honored to have been asked to do it and I'm looking forward to it."
Wade is also looking forward to it because teaching at Northwestern—just like working in her dream job with the Bears—will allow her to meld two of her lifelong pursuits.
"I'm working to intersect my passion with purpose, and the universe is answering with all these opportunities," Wade said. "Whether it's mentoring, teaching, connecting with my family members—especially over this past year—I've just been so fortunate. People sometimes think you can't do everything at once. But I'm able to intersect passion with purpose right now and it's really a motivating thing. I'm just really fortunate to be in the situation I'm in and thankful for it."