---
---
Neely racked up countless miles on road to Bears
Story by Larry Mayer
Not only is Malcolm Neely driven to succeed; he has driven to succeed.
The Bears marketing coordinator was pursuing a master's degree at Northern Illinois University in 2017 when he landed an unpaid summer internship with the WNBA's Chicago Sky. Determined to gain experience with a professional sports team but also having bills to pay, Neely took a second job as an Uber driver.
On a typical day, Neely would wake up at 5:30 a.m., drive from NIU's campus in DeKalb to Chicago, and make Uber trips for a few hours. He'd work for the Sky at their offices in Skokie from about 10 a.m. to 3:30 p.m., and then spend a few more hours driving for Uber before returning home.
"It was an eye-opener," Neely said. "It was definitely like, 'If you want to make it work, you've got to make it work.' I was excited about the internship and what I could learn at the Sky and meeting contacts and networking. But I had to figure out a non-regular way to make money, so that's when I started driving for Uber."
Gregarious and outgoing by nature, Neely enjoyed interacting with his passengers. He was fascinated to hear about Chicago history from long-time city residents while also discovering where all the hot spots were in town.
"Uber was a great time," Neely said. "I learned a lot about Chicago that summer. Those three or four months I learned a lot of the streets, a lot of the neighborhoods, the people, different communities, things like that. That was kind of like the first full breath of Chicago I took."
On one occasion, Neely picked up a family at Wrigley Field following a Cubs game and drove them to their Gold Coast home. After dropping them off, he noticed that one of his passengers—a young girl—had left a necklace behind in the back seat of his car. It turns out that the necklace had belonged to the girl's grandmother who had recently passed away, making it a priceless heirloom to the family.
Neely returned the necklace to the family and then drove the girl's uncle to O'Hare Airport. Showing his appreciation, the man gave Neely a $200 tip.
"The guy was a high roller," Neely said. "He didn't tell me what his career was, but he said he made some money in Vegas earlier that month and he was just spreading the wealth."
Neely's path to the Bears began in the Quad Cities, a region of cities located on both sides of the Illinois-Iowa border. The youngest of three boys, he grew up in Rock Island, Ill., and then moved to East Moline, Ill., where he attended United Township High School. Malcolm received strong support from his family, including his mother, Melanie Lewis, as well as his father, Marvin Neely Jr., and his grandfather, Marvin Neely, Sr.
Neely enjoyed playing football and basketball as a kid and was eager to stay involved in sports when he arrived on NIU's campus as a freshman.
"I grew up surrounded by sports," he said. "All my friends and I were athletes; I really loved it. That's what pushed me into sports."
Neely landed a marketing and promotions internship with the school's athletic department. In that role, he assisted in the planning and execution of marketing plans and helped during special events. On game days, he worked with marketing staff in executing pre-game, in-game and post-game promotions. He worked closely with sponsors, seeking creative and unique ways to maximize their advertising dollars. For instance, a sponsor would offer free items to students who made a halfcourt shot during an NIU basketball game or kicked a field goal during a football game.
"My job was to create excitement around our athletics," Neely said. "Our football team was great. We were running the MAC (Mid-American Conference). We had Jordan Lynch, who was a Heisman finalist. We had a pretty solid football team, but our job was to keep fans excited about football, but then also lean them into our other athletics as well like soccer, basketball, baseball, etc."
After earning a marketing degree in 2016, Neely immediately enrolled in NIU's graduate school, majoring in sports management.
Shortly after his experience with the Sky, he landed a seasonal position in 2017 with the Windy City Bulls, the Chicago Bulls' affiliate in the NBA's G League that's based in northwest suburban Hoffman Estates.
Working in the team's community relations department, Neely was responsible for helping the Windy City Bulls engage with fans and businesses in the area. He orchestrated over 75 community events such as school assemblies, fundraisers and appearances with the team's mascot. He also managed all donations of items such as tickets, team merchandise and signed memorabilia through Donation Exchange, raising over $22,000 for local charities.
As part of creating a Windy City Bulls kids club called Bulls KidNation, Neely would allow young fans to shoot free throws after games at the Sears Centre Arena (which was renamed the NOW Arena in 2020).
"I was like, 'Hey, what's a way we can create a fun way for our young fans to want to hang out with us post-game?'" Neely said. "We would take kids down after every game and let them shoot free throws on the court. If it was only a few kids, I'd let them play 1-on-1 or 2-on-2 on the court for like 20 minutes. Their parents would take photos and videos and post them on social [media]."
As the posts were shared on Facebook and other platforms, the team started fielding more and more calls from prospective ticket buyers.
"I ended up finding out that actually helped create a lot of business," Neely said. "People would post these things and their buddy would call and say, 'Is there any way my kid could play basketball on the court?' It actually became a way we could draw fans in by giving their kids a once-in-a-lifetime experience like that."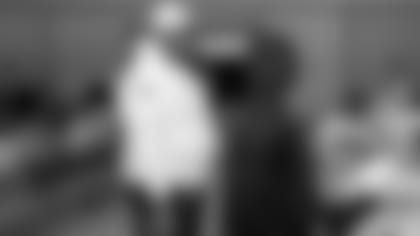 Neely earned his master's degree in May 2018. When he was hired by the Bears a couple months later, no one was happier than his father and grandfather, a pair of lifelong Bears fans. Malcolm spent his first three weeks on the job at training camp on the campus of Olivet Nazarene University in Bourbonnais.
Neely has enjoyed the last three-and-a-half years with the Bears, but he has decided to move on, accepting a position elsewhere as a senior influencer strategist. In his new role, he will attempt to make the same type of difference he did at Halas Hall.
With the Bears, Neely has been responsible for creating collaborations and relationships with local and national celebrities and influencers to help build brand affinity, especially with younger fans.
"My job is to make the Bears cool and young and relevant from a non-football perspective," Neely said. "How can I make fans, especially young fans, be around the Bears or be ingrained with the Bears?"
"You can put him out in the community and he can meet anyone. He has a very interesting quality of just being able to relate to different people and be a really good representative of the Bears." Bears VP of fan and brand development Fernando Arriola on Malcolm Neely
To that end, Neely helped the Bears team with Lyrical Lemonade, a multimedia company created by Cole Bennett, a 25-year-old avid Bears fan who grew up in Plano, Ill. A highly successful business executive, music video director and filmmaker, he boasts 19 million subscribers to his YouTube Channel and, in 2020, he directed the music video for Eminem's hit single, "Godzilla." The 2020 collaboration between the Bears and Lyrical Lemonade featured a limited-edition fashion line that included jackets, hoodies, t-shirts and sweatpants.
In 2021, the Bears partnered with Leaders 1354, a Chicago sneaker and apparel shop, to produce special Chicago-inspired baseball caps that were gifted to Bears players. Quarterbacks Justin Fields and Andy Dalton were among those who wore the hats during press conferences.
"The impact [Neely] has made is he's helped us rethink marketing from just doing traditional events, promotion and email to thinking about the broader culture and taking advantage of other things like retail and branding in places that we wouldn't have thought of otherwise to extend the Bears brand for younger consumers," said Fernando Arriola, Bears vice president of fan and brand development. "That's the biggest thing for sure, just getting the whole group to rethink how the Bears fit into Chicago as opposed to Chicago fitting into what we're doing."
Arriola believes that Neely's greatest strength is relationship building.
"You can put him out in the community and he can meet anyone," Arriola said. "He can meet Mayor [Lori] Lightfoot and have a good dialogue with her, or he can meet a kid and have a good dialogue with the kid, and you know there's going to be a good outcome in [both] situations. He has a very interesting quality of just being able to relate to different people and be a really good representative of the Bears."