---
---
Yousef brings unique perspective to Bears' DEI council
Story by Larry Mayer
Determined to champion diversity, equity and inclusion both internally and externally, the Chicago Bears formed a DEI Council in 2021.
No one on the 15-member council embodies or understands the importance of that mission more than Ghada Yousef.
A 30-year-old graphic designer who's been with the Bears since 2017, Yousef was born and raised in the United Arab Emirates, the middle of five children in a family of Palestinian expatriates. She grew up on the 12th floor of a high-rise building in Abu Dhabi, a wealthy city with a hot desert climate. Movie theaters, restaurants and the Grand Millennium five-star hotel were all within walking distance of her home.
"It was always loud; that's what I remember," Yousef said. "It was kind of like New York in that it never sleeps. I feel like the nightlife starts there at midnight."
Yousef and her family enjoyed their lives in Abu Dhabi, but they wanted to start a new journey and join her father's relatives in the United States. Her two older brothers emigrated to Champaign, Ill., in 2004, and she followed in 2006 as a 16-year-old high school junior. The rest of her family came later.
"That's the main thing about the U.S., especially for immigrants; you always hear about having better opportunities here, better chances to make your dreams a reality," Yousef said.
Yousef laughs when she recalls that her only knowledge of what life was like in the United States came from what she had seen in movies such as "Home Alone" and TV programs like "Friends" and "That '70s Show." So, when she enrolled at Champaign's Central High School, she no doubt was expecting to encounter characters like the McCallister siblings, Ross and Rachel, as well as Kelso, Hyde and Fez.
"The first year was hard, not knowing what to expect going in," she said. "I remember going into the front door of the school and seeing a swarm of people going back and forth. It felt like I was just standing there staring and trying to figure out, 'What should I do now?'
"Growing up, that was the image I had of America. My idea of public school was what I saw in movies and TV. It was a whole new thing for me. I was mentally preparing for a 'Mean Girls' type of situation, but in reality, everyone was very nice and friendly, which helped me settle in and overcome the challenges of being in a new country."
While relieved and excited about the warm reception she received, Yousef couldn't help but notice the misconceptions that surrounded Arab Americans.
"The portrayal of Arab Americans and Muslim Americans was a bit more unfavorable back then than it is now," she said. "It was something that stood out to me, especially the portrayal of Muslim women and how we are viewed as oppressed, which is not the case. These incorrect stereotypes affect many minority groups. I remember back then thinking there has to be more that I can do than just accept it."
A decade later, the information and perspective she gained from listening and observing as a college student has enabled her to make a difference with the Bears. Always striving to bridge gaps, meet new people and break stereotypes, she was selected as a member of the DEI council.
"When the news first came out that we were going to have a DEI council, my first thought was, 'this is what I'm passionate about, this is the time for me to make change,' Yousef said.
"I applied for it, and it's everything I expected. I wanted to change how people perceived minorities and to ensure that the Bears' inclusive environment and culture extends to all our fans. It's all about making sure people are highlighted and recognized and there's a voice representing minorities."
"Ghada has contributed valuable insight and ... truly has demonstrated her commitment to advancing our efforts. We are fortunate to have Ghada on our team and look forward to our continued work together." Bears' senior vice president of Diversity, Equity and Inclusion Tanesha Wade
Yousef has been a valued member of the Bears' DEI Council since Day 1.
"We spent much of the last year creating a framework that has become the foundation of our long-term strategy," said Tanesha Wade, the Bears' senior vice president of Diversity, Equity and Inclusion. 
"Ghada has contributed valuable insight and offered a unique and important perspective throughout the process. She's been open to sharing her experience, ideas and creative input and truly has demonstrated her commitment to advancing our efforts. We are fortunate to have Ghada on our team and look forward to our continued work together."
Moving forward, Yousef will continue to draw upon her personal experiences in helping to foster diversity, equity and inclusion. 
Yousef isn't only making a difference in the DEI council with the Bears. She's a talented graphic artist with a bright future in the field. It's a career she chose after she considered becoming a dental hygienist. 
Yousef's journey and her passion for graphic design began at Parkland College in Champaign, where she volunteered for organizations like CUDO (Champaign-Urbana Design Organization), serving as a board member. Through her internships at McKenzie Wagner Inc. and The Living Letterpress, along with the guidance of her professors at Parkland and Illinois State University, she was able to gain the knowledge and tools needed to be where she is today.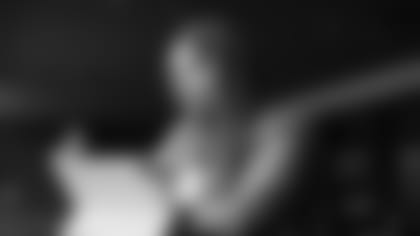 "I just love how tenacious she is," said John Conroy, the Bears' director of brand creative. "Even when I interviewed her, you could tell how hungry she was to learn. As a person, I've never seen her in a bad mood. She's always optimistic. She's determined in everything she does and she's humble. She's the type of person I definitely seek for our department.
"Obviously, she's talented. That was the biggest thing. She had talent. You could see it. It was just a matter of her being patient and willing to learn and take direction and feedback and doing so gracefully. With some people, it's hard to give feedback to because they can take it personal. But she is not that type of person. She is definitely going to be a creative director somewhere. You can see it."
"All I can say is I'm truly blessed and proud of the woman I am today," Yousef said. "I wouldn't be here without the constant support of my family and my colleagues."