---
---
Bears staffer Clark driven to help others succeed
Story by Larry Mayer
Aaron Clark loves to see the players he works with as Bears manager of football communications make generous charitable donations.
The 29-year-old is just as motivated to help others, and although he's not in the same tax bracket as millionaire professional athletes, he still found a way to give back and make a difference this summer.
Clark organized and hosted a free virtual professional sports forum for 30 attendees ages 14-20 who are interested in eventually working in pro sports. The four-hour event July 7 consisted of four panel discussions featuring a slew of guest speakers who shared their experiences and provided advice.
"You see [players] donate money to COVID relief funds and things like that," Clark said. "We have a great locker room and a great organization. You see these guys donate $50,000 to their high schools or charity. Obviously, I can't do that. But I can give back, and this is my way of doing it."
The four panels covered content and marketing, the business of athletes, sports media and sports communications. Speakers included Bears receiver Allen Robinson II, ESPN sportscasters Dianna Russini and Emily Kaplan, player agent Brandon Parker and communication coordinators and managers from the NFL's Rams, Browns, Lions and Giants and the NBA's Clippers.
Clark created the forum to give those interested in eventually working in pro sports an informative inside look at the industry.
"Getting older and talking to my colleagues, [it's evident] people kind of stumble into these jobs," Clark said. "They knew they liked sports all their life, but they didn't know these jobs even existed."
Clark capped the age limit at 20 because he wanted to give the participants the knowledge to gain an edge without turning the event into a job fair.
"There are a lot of things that you can do at 14, 15, 16 that can put you so much further ahead that when you graduate college at 22, you can have a whole résumé of experience," Clark said. "You can go to college and know, 'This is what I want to do. These are the classes I want to take. These are the internships I want.'
"If you know that when you go to college at 18, you'll have a leg up on everyone else. I think a lot of kids may be interested [in working in pro sports], they just don't know these jobs exist. The big thing was to just give exposure to kids."
"You see these guys donate $50,000 to their high schools or charity. Obviously, I can't do that. But I can give back, and this is my way of doing it." Aaron Clark on hosting a free virtual professional sports forum
Behind-the-scenes view provided an edge
Unlike many of his colleagues, Clark benefitted from a behind-the-curtain view of sports as far back as he can remember. Throughout his childhood, his mother, Debra Clark, served as a women's college basketball coach. Aaron happily attended games and practices and begged to travel out of town with his mom on recruiting trips.
Debra was an assistant at Norfolk State when Aaron was born in 1992 and later served as head coach at Winston Salem State (1994-2001), Florida A&M (2001-08) and back at Norfolk State (2008-16) before retiring in 2016.
"Growing up around sports," Aaron said, "I was exposed to a lot more of behind-the-scenes stuff than I feel a normal person would be, which I think kind of gave me a leg up getting into this business."
Debra believes that growing up as the son of a college basketball coach has helped Aaron thrive with the Bears, especially interacting with players and coaches.
"I think it had a lot to do with who he is now as far as him being able to do his job effectively," Debra said, "because he saw it from a player's perspective and he saw it from a coach's perspective. He knows the time, the work and the energy that goes into the final product."
In his role with the Bears, Clark serves as a liaison between the team and the media. He coordinates interviews with reporters and works closely with several players, including Robinson, quarterback Justin Fields, outside linebacker Khalil Mack and inside linebacker Roquan Smith, among others.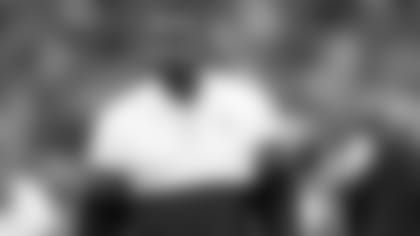 Clark is also responsible for compiling and disseminating statistics, something that he's been fascinated with since he was a kid. "I've always been obsessed with stats," Clark said. "My friends call me a sports nerd."
Debra Clark can attest to that. She recalls that after one of her son's first rec league basketball games, he was disappointed to learn there was no stat sheet like the ones distributed following the college contests she coached.
"After the game he said, 'Momma, where is the stat sheet?'" Debra said. "I said, 'Aaron, it's the YMCA and you're five; they don't have a stat sheet.' And he said, 'Well, they should.' He's always been a student of sports and statistics."
Learning to overcome adversity
Clark continued to learn valuable lessons that would ultimately help pave the way to his pro sports career when he played basketball at Virginia Wesleyan College. A high school star, he was forced to adjust to a lesser role on a stacked college team.
"My first two years in college, I barely touched the court," Clark said. "I had started every game since I was four years old, so that was tough for me. But I learned what's important and ever since then, team success has always been more important to me than individual success. I was [angry] I wasn't playing and I wasn't used to sitting on the bench. But my freshman year we started 18-0, so I couldn't really be too upset because I'm very competitive and I want to win. I just continued to work hard and believed my time would come."
Clark's patience eventually paid off; his role finally increased and he became Virginia Wesleyan's starting point guard and one of the team's two captains. As a senior, he earned conference player of the week honors, posted back-to-back 20-point games and helped his team win the conference championship.
"From a basketball and a life perspective, I learned a lot about myself in those years I didn't play, including how to overcome adversity," Clark said. "Those years in college prepared me for life and for my job now.
"A lot of it is a huge credit to our coach (Dave Macedo). At the time he was yelling at us, you don't understand why, and then two years after you graduate you understand what he was trying to [convey] to us. My teammates and I are still really close and we have conversations just about how much he prepared us for life."
Seven years after graduating from Virginia Wesleyan, Clark continues to keep in contact with Macedo, who is entering his 22nd season as the school's basketball coach.
"Aaron made his teammates better, and they really enjoyed playing with him," Macedo said. "That's really a quality we try to preach. We all want to coach kids we enjoy being around, and Aaron made lifelong friends from the moment he stepped on Virginia Wesleyan's campus just the way he carried himself."
Macedo recalls Clark being a highly intelligent player.
"As a coach's son, he just had a savvy and intellect about him and a passion for the game," Macedo said. "It seems like Aaron always made the right play, he always thought 'team' and was very detail-oriented. As a coach, I had to know what I was talking about because he could see right through anything. He was pretty sharp."
"From a basketball and a life perspective, I learned a lot about myself in those years I didn't play, including how to overcome adversity. Those years in college prepared me for life and for my job now." Aaron Clark on his college basketball career
Building trust with Bears players
After graduating from college in 2014, Clark was hired as an intern by the Carolina Panthers. He landed a seasonal position with the Bears in 2016, moving to Chicago a few days before training camp. It was the first time he had ever stepped foot in Illinois. Promoted to a full-time role in 2017, he's now in his sixth season with the team.
Clark especially enjoys building a rapport with the players, even if it means going above and beyond his regular job duties. 
"Most of them are around the same age as me, we have the same interests, we grew up kind of the same," Clark said. "Being able to show these guys that I can help them with things outside of football without asking for anything in return—whether it's helping them get a dinner reservation or tickets to an event—I think that helps them trust me and know that I have their backs."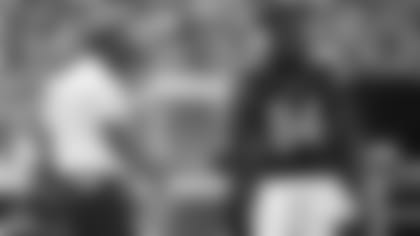 Clark has developed a special camaraderie not only with players and coaches but also with his fellow employees. His comfort level with them allowed him to share some personal feelings during an all-staff Zoom meeting in 2020 that was held following the murder of George Floyd, a Black man who was killed by a white Minneapolis police officer. 
During the emotional video session, Clark detailed an incident that occurred near his home in Florida when he was 10 or 11 years old. Clark and three of his friends—all of whom were white—were accused by the owner of a sandwich shop of stealing potato chips. But only Clark was asked to empty his backpack.
"I didn't think anything of it," he said. "But when I told my parents what happened, they explained it to me, and that was my introduction to the differences and some of the things that people of color go through."
Clark shared his story only after speaking to Bears chairman George H. McCaskey.
"Social justice is important to George," Clark said. "I got that sense talking to him before the all-staff meeting. That's what gave me confidence to say something. If people don't share their experiences, we're never going to be able to change or take a step in the right direction until we know where we've been and things that people have experienced."
What needs to change, Clark believes, is increased education and open-mindedness.
"If you take the time to listen to someone else's story and what someone else has gone through, that's the education part," he said. "The open-mindedness is to be able to recognize something even though you've never experienced it."
Clark is confident that racial equality will eventually exist. And while he understands it won't happen overnight, there's no better time than the present to accelerate that journey.
"I think we can get there," Clark said. "I don't want to put a timeline on it. But I do think we're in a position where we can start to have some change now."