Medlin a valued member of Bears organization for decades
Story by Larry Mayer
---
---
Tony Medlin provided Devin Hester with much more than just a helmet, pads and a uniform during the record-breaking return specialist's illustrious career with the Bears.
The team's longtime head equipment manager also gave Hester sage advice, guidance and—perhaps most importantly—a secure place to seek refuge from the outside world. Hester was a regular visitor to Medlin's office, where the two would chat a little about football and a lot about life.
"I talked to Tony pretty much every day after practice," Hester said. "He was always that guy where I would always go in his office and sit down and talk to him. I would see how his day was going, he would see how my day was going. He's been a very, very big part of my life."
When Hester arrived in Chicago in 2006 as a second-round draft pick, he was immediately drawn to Medlin, who has been with the Bears since 1987 and has been head equipment manager since 1997.
"People don't realize how long 'T-Med' has been around," Hester said. "He's been there since the Walter Payton days. The guy's been around a long time. When I first got to Chicago, Tony was like the old head veteran guy who just knew everything when it came to places to stay, the way to carry yourself and even doing appearances off the field. He would always give me advice about how to present myself, how to speak to people and how to carry myself the right way and make sure that I kept my nose clean."
Former Bears long-snapper Patrick Mannelly, who played a franchise-record 16 seasons with the team from 1998-2013, remembers first meeting Medlin and quickly developing a friendship with him.
"Tony is one of the first people you talk to when you're drafted because he's the one who assigns your number," Mannelly said. "So it starts off on draft day, and then when you walk into the building and you meet him and you find out what kind of guy he is, who he is, and how easy he is to talk to, then he becomes your friend.
"He was that guy who was there every day and was super consistent. He never changed. His door was always open. There were a lot of times I would just go sit with him to chat. He was always there for you."
Through the years, countless other Bears players have been mentored by Medlin, a role that he continues to embrace and enjoy.
"That means a lot to me," Medlin said. "It's more than just being an equipment guy because I think the players today need more nurturing than they ever have needed. Life is hard today; it's harder than it was yesterday. If you can figure out a way to try to help make it a little bit easier, you do that."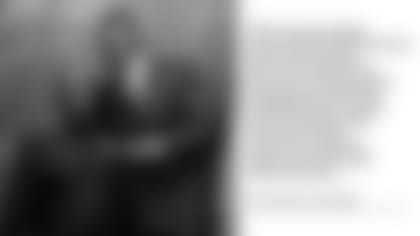 Work ethic was instilled early
Medlin clearly didn't reach the summit of his profession—and remain there for decades—due to compassion alone. He also boasts an unmatched work ethic that he learned from his mother, Parthenia, while growing up in Hope Mills, N.C., a small town with a population just under 16,000 that's located about seven miles southwest of Fayetteville.
Parthenia was a single mom to nine children—after Tony's father passed away when he was a year old. As a kid, Tony marveled at how his mother provided for her seven sons and two daughters. "I really owe it all to my mother because she inspired us all to work hard," he said.
Medlin's willingness to work was evident when he became a student manager at North Carolina Central University as a freshman in 1978. His job entailed not only distributing and maintaining all of the equipment but making travel plans and preparing for road trips.
"That was a lot of responsibility for a young man, but he always just seemed to be more mature than his age," said John Outlaw, a former NFL defensive back who served as North Carolina Central's assistant head coach and defensive coordinator at the time. "There was a lot that he had to do along with carrying a full load of classes."
Outlaw recalled that Medlin's organizational skills were second to none.
"He was very organized and well respected by the entire staff and the players even though they were the same age," Outlaw said. "That was a thing that really impressed me about Tony. He was always the first one to be on the job and the last one to leave. If you told him something had to be done, you could always count on him to get it done."
Medlin was proud to attend a Historically Black College/University (HBCU). When he graduated from North Carolina Central in 1982, he was hired as the school's athletic equipment manager, a job he held until he joined the Bears in 1987.
Greg Tate was a linebacker at NCCU in the mid-'80s when he became friends with Medlin—and continues to cherish that relationship more than three decades later.
"Tony was like another coach to us," Tate said. "He was a mentor. If we were doing something wrong, Tony would be the guy, if he saw us on campus, he would say, 'You know you're wrong, you need to do this right.'"
Tate went on to become a Maryland state trooper and later a member of the U.S. Secret Service responsible for protecting President Barack Obama. Tate now works as a director of corporate security for the NBA. Asked to identify Medlin's greatest asset, Tate said: "I would say his integrity. Tony is a country guy at heart. He's just a genuine, good person. I've always appreciated him as a mentor to me. He'd always tell me, 'I'm so proud of you,' and I'd be like, 'Tony, I'm proud of you and your accomplishments.'"
Goodell helped pave path to NFL
Interestingly, the one person who is perhaps most responsible for Medlin's move from North Carolina Central to the Bears is NFL commissioner Roger Goodell. Working in an administrative position with the league in 1987, Goodell was responsible for finding qualified candidates to serve as NFL equipment managers and assistants. Medlin interviewed over the phone with Goodell and was then instructed to call the Bears.
Gary Haeger had just been promoted from assistant equipment manager to head equipment manager and needed to hire an assistant. Medlin interviewed with Bears executive Bill McGrane as well as Haeger. A few weeks later, McGrane called to offer Medlin the job.
"I was so thrilled," Medlin said. "It was like a scary moment and a happy moment all in one. It was scary because I had never been away from home that far, but it was a great opportunity."
Medlin was a 25-year-old about to join a veteran team that had just won the Super Bowl two years earlier. But he was relieved when he received a warm reception from coach Mike Ditka and players such as Walter Payton, Richard Dent, Matt Suhey, Willie Gault, Otis Wilson and Ron Rivera, among others. Medlin was especially excited when he was invited to dinner by Ditka as part of a large group during training camp in Platteville, Wis.
"The guys really welcomed me," Medlin said. "That was the greatest feeling. They made me feel like family."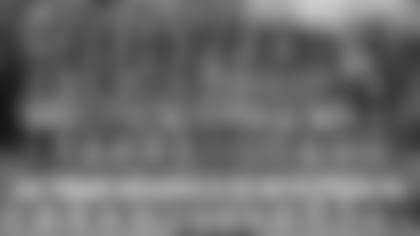 Recalling how reassuring it was to receive a warm welcome, Medlin pays it forward by greeting all new Bears players the same way.
"That's my way of giving back," Medlin said. "A lot of times when a young kid comes in, he doesn't know. He has no clue what this is all about.
"I want to make him feel welcome, make him feel like he's part of the Bear family. I want them to feel like any way we can help keep that athlete safe, any way we can encourage the athlete when he has a bad day, to me that's just the way it is. I try to give them advice.
"I look at it like this: you're away from home, this is new to you. I was away from home when I first came here. If you make a person feel welcome, if you make a person feel comfortable, the player will trust you. I think the key thing is building trust. When you want a player to trust you, you create some type of authentic relationship."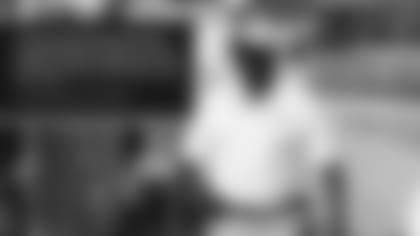 Keeping players safe is No. 1 objective
After 10 years as an assistant, Medlin was promoted to the head equipment manager position in 1997 by Bears president and CEO Ted Phillips, who was the team's vice president of operations at the time.
In his role with the Bears, Medlin is responsible for coordinating all team equipment operations including logistics, purchasing and inventory for all players, coaches and staff. He also serves as the team's liaison with the NFL's apparel providers Nike and New Era.
Medlin heads a staff that includes assistant equipment managers Carl Piekarski, Drew Strom and Thomas Woody and administrative assistant Jimmy Couto.
Medlin has been honored as the NFL's top equipment manager twice: he received the Whitey Zimmerman Award in 2000 and was named New Era's equipment manager of the year in 2016. Medlin was inducted into the North Carolina Central University Alex M. Rivera Athletics Hall of Fame in 2006. He is also a member of three committees that provide input to the NFL about equipment-related issues.
Medlin believes that as a head equipment manager, his No. 1 responsibility is to keep players safe. "You're trying to prevent injury," he said. "You don't want to wait until the guy gets hurt and then you're trying to protect the athlete."
To that end, Medlin and his counterparts throughout the NFL are responsible for analyzing data generated from safety studies that are commissioned by the league and other outside companies. That information is then used to determine the equipment that's best suited for each player.
"You educate the athlete; why you have to wear a certain shoe, why you have to wear a certain shoulder pad, what can keep you safe out on the field," Medlin said. "You explain why, you educate him.
"Some players will come in knowing exactly what kind of shoe, what kind of helmet, how he wants his pants, how he wants his jersey. Other players don't care. Yet you still take that time to educate that player why the helmet has to fit a certain way, or what style of shoulder pad he should wear."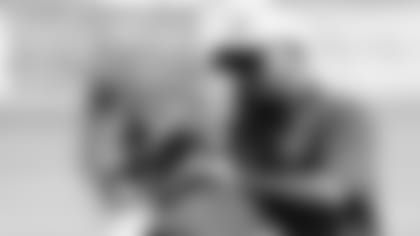 In his role, Medlin works closely with Bears head athletic trainer Andre Tucker, sport science coordinator and dietician Jennifer Gibson, coach Matt Nagy and his staff as well as members of the video, community relations, media relations and marketing departments.
A revered employee, Medlin won the Virginia McCaskey Award in 2017. The prestigious honor is given to a Bears staffer who has demonstrated the characteristics and values of Mrs. McCaskey: grace, humility, loyalty and dedication. The winner also is someone who not only exceeds the highest standards of achievement, but whose work sets them apart from co-workers.
"That award means so much to me," Medlin said. "When I can put my name by Mrs. Virginia McCaskey, the daughter of George Halas, that means a lot. It's history that will never go away. To me, the Virginia McCaskey Award stands out bigger than anything."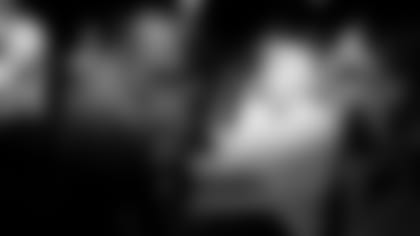 A man who wears many hats
In addition to his duties as head equipment manager, Medlin coordinates the Bears' annual coat drive and plays an instrumental role in the team's draft. He has also been on the sideline for the last 23 Super Bowls, responsible for the 120 footballs that are used in the championship game.
The coat drive was started by Haeger, Medlin's predecessor, and the equipment department in 1989. After replacing Haeger in 1997, Medlin was determined to continue the initiative. Every year, tens of thousands of new or gently-used coats are donated and then distributed to those in need throughout the Chicago area.
"It's a wonderful cause and it's something that I didn't want to go away," Medlin said. "It has been wonderful to be able to help people all these years.
"When you go to speak at a school during the winter months and you see kids, they don't have coats, or if you see a family going into the grocery store and a kid doesn't have a coat, the mother doesn't have a coat, that inspires me to keep doing something like this. You try to do things to help a little bit because that little bit means a lot to them."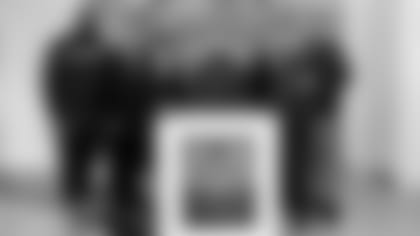 Since the late 1980s, Medlin and one of his co-workers have represented the Bears on site at the NFL Draft. When the Bears make a pick, someone from the draft room at Halas Hall calls Medlin, who fills out an official card with the prospect's name, position and college, and hands it into the NFL.
Medlin enjoys being part of the process—and being one of the very first people to know who the Bears are drafting.
"I take pride in it because you know you have a chance of being part of helping the Bears get better," Medlin said.
Medlin also enjoys his role as game ball coordinator at the Super Bowl. Every year he collects footballs from each team, transports them to the stadium and is responsible for the operation of the footballs during the game. Someone else filled that role when the Bears played in the Super Bowl in 2006. But he's done it in every other Super Bowl since 1998.
While being on the sideline for the NFL's biggest game of the season is an honor, there's nothing that Medlin cherishes more than the opportunity to continue working for the Bears, one of the league's founding franchises.
"I'm so grateful to the Bears and the McCaskey family for allowing me to be part of such a special organization," Medlin said. "It's like being able to actually play the sport for me. I've met so many great people, including players, coaches, other staff members and league executives throughout the years. Some of those relationships will last my entire lifetime."