Erika Marmolejo impacting Bears players on and off the field
Story by Larry Mayer
In honor of Latino Heritage Month, the latest installment of our Difference Makers series features Erika Marmolejo, Bears player engagement coordinator.
---
---
Growing up in Merced, Calif., which is located about an hour northwest of Fresno, Erika Marmolejo played travel softball, basketball and volleyball.
"That was my entire life," said the Bears player engagement coordinator. "I pretty much started playing sports as soon as I could walk. For me, it was the competition. I love competition. I hate to lose more than I love to win, so that fuels me." 
Marmolejo credits her father, Richard, for giving her her drive and determination. An accomplished softball player and team captain at Azusa Pacific University, Marmolejo earned her undergraduate degree in journalism. She aspired to become a sideline reporter, but having been part of sports teams her entire life, she was drawn back to that dynamic with the force of a high-powered magnet. 
"I had a big interest in sideline reporting," she said. "But then I always found myself back in a team setting, just being around different sports and working in different sports. I think I just really found my footing with a team and kind that player engagement, personal growth type mindset."
In her role with the Bears, Marmolejo works closely with players and their families. She provides support and resources in four main areas: continuing education, financial literacy, professional development and personal growth. Marmolejo and others in player engagement throughout the NFL assist players and their entire ecosystems during and after their playing days.
As part of the Bears' focus on total wellness, Marmolejo is also involved with providing mental health resources to players, working closely with director of player development and mental skills Mike Wiley Jr. and team clinician Carla Suber.
"This role is just such a servant role," Marmolejo said. "I really enjoy that and I think it's because I didn't really have that when I was in college. I remember my coach in college actually took me to get my first checking account. We didn't have that, especially in women's sports. So I like being able to give back and educate." 
Marmolejo particularly enjoys helping rookies assimilate to life in the NFL.
"It means a lot to me to impact these guys' lives and just really help them and help their families and help them transition in," she said. "It brings me joy to see them excel not only as athletes but young men."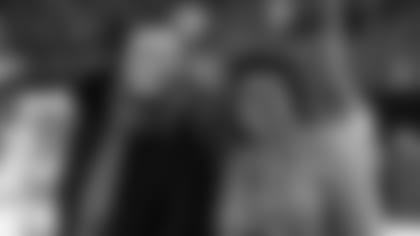 Marmolejo's first job in professional sports was as an intern for the NBA summer league in Las Vegas. She was hired by the Oakland Raiders in 2016 as an assistant to general manager Reggie McKenzie and worked as a player personnel assistant in the team's scouting department. She also began helping in player engagement in 2018. 
"She cares with a purpose in mind," said Lamonte Winston, who served as Raiders director of player engagement at the time. "When you're working with players and their families, there has to be care with a purpose and sometimes the purpose is not real comfortable for people because you've got to be able to tell them the truth. She was willing to have the hard conversation; she wasn't afraid to have it."
Winston recalls that Marmolejo quickly gained relatability among Raiders players. 
"That locker room is a small community," Winston said. "Once players have a really good experience, they will communicate to one another like, 'Hey, Erika, you go to her, she's for real, she's going to tell you the truth and she's going to walk with you through the whole experience.'" 
Marmolejo has developed the same rapport with Bears players since being hired by the team in 2020. 
"She's someone you can go to and talk to and she'll be honest with you," said receiver Darnell Mooney, a 2020 fifth-round draft pick. "She's good to work with. Anything for you, she's always there."  
After a brief stint with the Chicago Bulls, Marmolejo was hired by the Bears during the COVID-19 pandemic. It was initially challenging for her to get to know players when all meetings were conducted on a virtual basis and masks were required to be worn at all times throughout Halas Hall. 
"That was a different experience," Marmolejo said. "It's crazy looking back now at how things were. It's totally different now. I remember back when I was with the Raiders and that's what this looks like now day-to-day. It's probably kind of a culture shock, especially for people who came in the past two years, even players, not having seen how it was pre-COVID."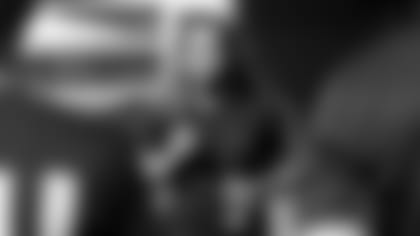 Marmolejo, who is of Mexican descent, is believed to be the only Latina woman working in player engagement for an NFL team. 
"I'm extremely proud of that," she said. "My culture is everything to me."
Marmolejo's grandparents and mother were born in Mexico, and Spanish was her primary language growing up. Her mother, Martha, was previously a Spanish teacher and principal who is now dean of students at a high school in El Dorado, Calif. Her brother, Richard, coaches football at Atwater High School near their hometown of Merced. 
Marmolejo has spoken to students at different schools, hoping to serve as a role model and inspire them to follow in her footsteps. 
"A lot of people ask me, 'how do you get into player engagement?'" she said. "Even if you break down a résumé or job description, it's just such a relationship business. There's no blueprint for player engagement; 90 percent of the job is your relationships and working with people. I think that level of relatability and adaptability is a finite skill that I see with my colleagues throughout the league."
Marmolejo is grateful for the support she receives from general manager Ryan Poles, coach Matt Eberflus and assistant GM Ian Cunningham. 
"I'm really thankful to coach Flus and to Ryan Poles and Ian," she said. "Having a dynamic player care support [system] here that they envision is huge for this organization and I'm really proud of what we're building here."